Lana Redeye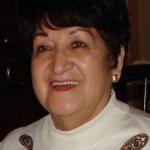 Lana Redeye of Jimersontown passed away today (Aug. 12, 2019) at the age of 79 following an extended illness. She was a fighter her whole life but was unable to overcome several illnesses that afflicted her recently.
Lana was born in the Salamanca Hospital to Leonard and Eleanor Redeye on November 11, 1939. She was a member of the Heron Clan of the Seneca Nation of Indians and the great-great-great-great-granddaughter of the renowned Seneca Chief Cornplanter. Along with her siblings Carolyn, Sandra and Leonard, she grew up in Jimersontown and graduated from Salamanca High School. As a high school student, she was one of the first Senecas to be employed in a downtown Salamanca business. Lana earned her bachelor's degree from Eastern Nazarene College and, later, as a working mother, her master's degree from St. Bonaventure University.
Lana had four children of which she was extremely proud, Robert Odawi Porter (Odie), Andrew J. Rozler (Tracy), Todd C. Rozler, and Heather D. Rozler, all of whom survive. She had fourteen grandchildren (Rachel, Ben, Olivia, Elliot, Andrew, Aidan, Bryson, Harley, Drew, Madeline, Morgan, Jacob, Ethan, Anne Marie) and one great-grandchild (Elizabeth).
Lana was predeceased by her mother, Eleanor Bowen Redeye, her father, Leonard Redeye, her sisters, Sandra Brady and Norma Geraldine Bennett, and her brothers Leonard Redeye, Jr., Laverne Redeye, and Ronald Jemison.
Much of Lana's life focused on educating her fellow human beings. Like her sister, Carolyn, she was trained as an elementary school teacher and worked in the Little Valley and Salamanca public schools following college. This was an historic achievement following the integration of Senecas into the state public schools in 1965.
In 1977, she was appointed by the Seneca Nation Council to serve as the Nation's first education director, which began a nearly unbroken 35-year tenure serving the Seneca people of the Allegany and Cattaraugus Territories. She eventually served in other roles in Seneca government, including as Planning Director and Assistant to the Treasurer and Clerk.
Lana served a lead role in the establishment of the Seneca Nation library system and believed strongly that reading and understanding the English language was the key for Seneca survival in the modern world. She also greatly appreciated the Seneca language and culture, much of which was lost in her family following her mother Eleanor's upbringing at the Friends Indian School at Tunesassa. As Seneca Education Director, she promoted the teaching of the Seneca language in the public schools.
Lana was active in the Seneca community throughout her life, with particular engagement in Seneca politics. Working with other "political clan mothers" of her era, she helped elect numerous presidents and other elected officials for more than 30 years. She was elected as the first woman highway commissioner from the Allegany Territory and served as a Peacemaker judge. She also served on the Seneca Nation's Investment Management Board and its Health Commission.
Lana's service to others extended beyond the Seneca Nation. For 35 years, she served on the Board of Regents of Haskell Indian Nations University in Lawrence, Kansas representing all of the South and Eastern Tribes in the operation of this unique national all-Indian college. In her life, there was no more important priority to Lana than spending time with her children and grandchildren, and fighting for the future of the Seneca people. As "mom" or "nana/nina", as "sister" or "friend", Lana Redeye was a strong, proud, and remarkable Seneca woman who will be greatly missed by all who knew her.
Friends may call at the O'Rourke & O'Rourke Inc Funeral Home, 25 River Street, Salamanca on Wednesday, August 14th from 2 - 4 and 7 - 9 pm.
Funeral services for Lana will be held on Thursday, August 15th at 10 a.m. in the funeral home, with burial at the Cornplanter Cemetery in Corydon, Pennsylvania.
E-condolences can be sent to orourke.orourkefh@gmail.com or posted to facebook.com/onofh.