Lawrence "Syd" Uhl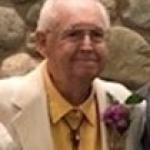 Lawrence "Syd" Uhl, 94, of Salamanca, NY, died Thursday, July 21, 2022 at Absolute Care of Allegany.
Born April 26, 1928 in Salamanca NY, he was the son of the late William L and Marion H Reamer Uhl. He was married on June 8, 1952 in the First United Methodist Church to the former Diane Banton who predeceased him on October 24, 2018.
He was a graduate of Salamanca High School, Class of 1946. After school, Syd enlisted in the Army and was awarded the Army of Occupational Medal and the World War II Victory Medal. He toured overseas in Italy. Following his service, he then attended Bradley University in Peoria Illinois. Syd owned and operated Uhl Buick Company in Salamanca for over 20 years and prior to retiring he was the Assistant Manager at Onoville Marina Park in Steamburg, NY.
He enjoyed "Supper Club" with his wife for over forty years with their friends. Syd loved boating with his family at Onoville Marina. He enjoyed big band music, Little Theatre, Chautauqua Institute Amphitheater and Marching band competitions. He was an avid Bona's basketball fan and of course an avid Buffalo Bills fan.
Surviving are: two daughters Ellen (Thomas) Fenton, Great Valley, NY, Pamela (Joe Ognen) Caldwell, Bradford, PA; three grandchildren, Joshua (Caitlynne) Zolner, Jessica (Travis)Wallace, both Great Valley, NY, Julia (Ryan) Dunn, Yelm, WA; 8 great grandchildren, Garett & Griffin Zolner, Emma, Grant & Nora Wallace, Mia, James & Zoey Dunn; several nieces and nephews. He was predeceased by a son, Lawrence O. Uhl
There will be no visitation
A graveside service will be held in Wildwood Cemetery on Saturday, August 27, 2022 at 1pm. . Funeral arrangements are under the direction of the O'Rourke & O'Rourke Inc. Funeral Home, 25 River St, Salamanca, NY.
E-condolences can be sent to orourke.orourkefh@gmail.com.