Liam J. Schrader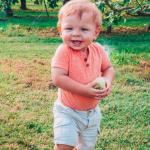 Liam J. Schrader, 16 months, of Salamanca, NY died Saturday, November 6, 2021 at Oshei Children's Hospital following a short illness.
Born July 8, 2020 in Olean, NY, he was the son of Thomas Schrader and Brianna Brooks, Salamanca, NY.
Surviving besides his parents are: a brother, Christopher A. Schrader, Salamanca, NY; maternal grandmother, Amber (Scott Kilby) Tomsick, Salamanca, NY; paternal grandparents, Ronald Sr. and Donna Sheldon Schrader, Brocton, NY; several aunts, uncles, and cousins.
Family and friends may call at the O'Rourke & O'Rourke Inc Funeral Home, 25 River Street, Salamanca, NY on Thursday, November 11, 2021 at 11am – 2pm at which time funeral services will be held with Deacon Michael Anderson of Our Lady of Peace Parish, officiating.
Burial will be in Green Cemetery, Great Valley, NY.
E-condolences can be sent to orourke.orourkefh@gmail.com.