Lillian McLaren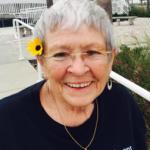 Lillian M. McLaren, 95, died peacefully Saturday, January 4, 2020 at The Pines, Olean, NY.
She was born in Niagara Falls, Ontario, Canada on September 17, 1924, the daughter of Lawrence and Mae Peers Davis. Lillian was married to Richard McLaren in Buffalo on July 21, 1945. They were married for 42 years, until his death in 1987.
A member of The Greatest Generation, she worked at a defense plant during World War II before marrying the love of her life near the end of the war. They moved to Salamanca in 1950 for her husband's job with the Erie Railroad, and raised their six children there. She worked at several local businesses, including Bradner's Department Store and the Dudley Hotel, prior to her retirement. After that, she spent winters in Florida, Arizon, and Nevada with children. She spent most of her time with her children and grandchildren. She was active in church and enjoyed cooking and baking, reading, crocheting, volunteering, and walking, especially around the Red House Lake in Allegany State Park.
She is survived by: her six children, Diane McLaren, Kathy (Douglas) Wilson, Sherry (Michael) Puvel, Peggy (Carlo) Houghtaling, Lawrence (Julie) McLaren, and Alison (Charles) Wallace; eight grandchildren, Mark (Natasha) Keller, Seana McLaren, Aaron (Eric) Puvel, Megan (Michael) Crowley, Trevor (Cassondra) Wilson, Devin (Maureen) Puvel, Craig McLaren, Michael Nazario; nine great-grandchildren; several nieces and nephews.
In addition to her husband, she was predeceased by her parents, a sister, and three brothers.
Friends may call at the O'Rourke & O'Rourke Inc Funeral Home, 25 River Street, Salamanca, NY on Wednesday, January 8, 2020 from 4 – 7 p.m. .
Funeral arrangements will be held in the funeral home on Thursday at 11 a.m. with Rev. Alan Yates, pastor of the House of Prayer, officiating.
Burial will be in Crawford Cemetery, Salamanca, NY.
E-condolences can be sent to orourke.orourkefh@gmail.com or posted to facebook.com/onofh.