Logan C. Redeye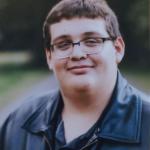 Logan C. Redeye, 18, of Limestone, NY, died unexpectedly on Friday, August 6, 2021 due to injuries sustained in a motor vehicle accident.
Born May 30, 2003 in Olean, NY, he was the son of Luis A. (Jennifer) Castellano of Salamanca and Sarah E. (Darren Neal) Redeye of Limestone.
He was a graduate of Elm Street Academy, Class of 2021, attended Allegany Limestone Central School, and Culinary School at BOCES in Belmont, NY. He was also enrolled for the fall semester at Alfred State College, majoring in Business Administration.
Logan had been employed at Olean High School in their summer employment program.
He enjoyed spending time with is family and playing video games. He will be remembered for his great personality and ability to make people laugh. He loved singing and dancing and had a great sense of humor.
Surviving besides his parents are: two brothers, Alex Redeye, Limestone, NY, Brantson Castellano, Salamanca, NY; three sisters, Adessa Castellano, Salamanca, NY, Madison Laird, Katie Neal, both of Limestone, NY; maternal grandparents, George Redeye, Kill Buck, NY, Cathy Case, NC; paternal grandmother, Susan Sequoyah, Salamanca, NY; an aunt, Renee (Dallas) Hoag, Salamanca, NY; an uncle, Mark Finch, Salamanca, NY; several other aunts, uncles, and cousins.
He was predeceased by an uncle, Landon Sequoyah.
Friends may call at the O'Rourke & O'Rourke Inc. Funeral Home, 25 River Street, Salamanca, NY on Wednesday, August 11, 2021 from 2 – 4 and 7 – 9pm.
Funeral services will be held in the funeral home on Thursday at 11am with Peter Haig and John Block officiating.
E-condolences can be sent to orourke.orourkefh@gmail.com or posted to facebook.com/onofh.