Lorraine J. Cooper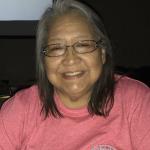 Lorraine J. Cooper, 65, of Salamanca, NY died Thursday morning, December 16, 2021 at the Salamanca Nursing & Rehab following a long illness.
Born March 21, 1956 in Salamanca, NY she was the daughter of the late LeRoy and Rosaphine Jimerson Cooper.
She was an enrolled member of the Seneca Nation of Indians and was born into the Hawk Clan.
Lorraine attended Salamanca High School and earned her Licensed Practical Nursing certification.
She had been employed as an LPN with Aurora Healthcare, Williamsville, NY for over five years and had also been employed Willcare, Olean, NY.
She enjoyed spending time with her family, especially her grandchildren, photography, and will be remembered as the paparazzi. She will also be remembered for her good sense of humor and the ability to make people laugh and feel good. She also an avid BINGO player.
Surviving are: a daughter, Crystal (Jeremy) Lazenby, Florence, KY; two granddaughters, Lilianna and Madeleine Lazenby, both of Florence, KY; four grandsons, Austin, Justin, Judah, Malachi Lazenby, Florence, KY; two sisters, Sandra Dowdy, Coldspring, NY, Pauline "Snap" John, Salamanca, NY; a brother, Thomas Redeye, Steamburg, NY; several nieces and nephews including a special niece Andrea Perkins, Salamanca, NY.
She was predeceased by her son, Jason Barber, brother, Charles "Chipps" Cooper, a sister, Alice Perkins, two nephews, Dale and Chase, and her stepfather, Laverne Raub.
Friends may call at the O'Rourke & O'Rourke Inc. Funeral Home, 25 River Street, Salamanca, NY on Friday, December 17, 2021 from 2 – 4 and 6 – 8pm.
Funeral services will be held in the funeral home, Saturday at 10am with Rev. Kevin John officiating.
Burial will be in Hillside Haven Cemetery, Steamburg, NY.
E-condolences can be sent to orourke.orourkefh@gmail.com.