Mrs. Ludmilla O. "Millie" Tertinek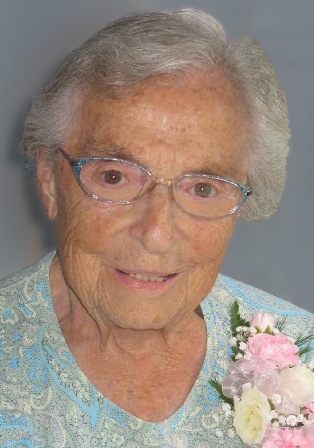 Mrs. Ludmilla O. "Millie" Tertinek, age 98, of Fair Oak Street, Salamanca, New York died Friday evening, March 11, 2016 at the Pines Health and Rehab in Olean, New York.
Born September 10, 1917 in Dreikonig (Three Kings), Mahrenberg, Yugoslavia, she was the daughter of the late Maria Onuk. She was married in 1939 in St. Primon, Yugoslavia to Peter Tertinek, who predeceased her in 1958.
They moved from Yugoslavia to Graz, Austria prior to immigrating to the United States in 1952 with six of their children. They lived in New York City, Otto, and Ellicottville prior to settling in Salamanca.
Following her husband's death Millie took various employment including housekeeping, kitchen help at the former Palace Restaurant, loom operator at Sheble & Woods Woolen Mill, Sears Roebuck & Co., and Bradholm Components.
She was a member of Our Lady of Peace Parish. She was an avid baker, gardener and enjoyed watching the variety of wildlife that frequented her back yard.
Surviving are: 3 daughters, Aloisia (Gustav) Spieler, Muta, Slovenia, Johanna Huss, Clewiston, FL, Millie (Bob Stoltz) Rathbun, Salamanca, NY; 4 sons, Christian (Marti) Tertinek, Sodus Point, NY, Peter Tertinek, Columbus, IN, Herman (Dawn Peterson) Tertinek, Troutville, VA, Otto (Patty) Tertinek, Olean, NY; 9 grandchildren, Eric Tertinek, Orchard Park, NY, Tammi Corso, Macedon, NY, Michelle Szymanski, Shepherdsville, KY, Joan Davis, Tallahassee, FL, Ed Huss, Davie, FL, Jason Tertinek, West Kingston, RI, Samantha Dreslinski, Chardon, OH, Elizabeth Midgley, Orchard Park, NY, Nicholas Tertinek, New York, NY; 9 great grandchildren; 1 great-great grandchild. Also left are a special son, Joe Cemane, and special friends of the German Club: Elizabeth Saradin, John and Lina Goy, and Hanni.
Friends may call at the O'Rourke & O'Rourke Inc Funeral Home, 25 River Street, Salamanca, New York on Wednesday from 4 – 7 p.m.
A Mass of Christian Burial will be held in Our Lady of Peace Parish on Thursday at 10 a.m. with Rev. David Tourville, pastor of St. Mary of the Angels, as celebrant.
Burial will be in Calvary Cemetery.
In lieu of flowers, the family suggests memorials to the American Cancer Society.
E-condolences can be sent to john@orourke-orourke.com or posted to facebook.com/onofh.