Marjorie A. Goodwill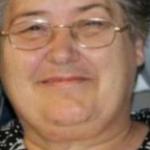 Marjorie A. "Buddy" Goodwill, 72, of Salamanca, NY, died Wednesday, July 26, 2023 at Olean General Hospital following a short illness.
Born December 18, 1950 in Salamanca, NY, she was the daughter of the late Marian Mosher.
She attended Salamanca High School.
Marjorie enjoyed the outdoors, camping, fishing, and hunting. She had a great love of cooking and liked to have family nights and play cards. She was an avid Bingo player.
Surviving are: two daughters, Tammy (Leanord) Hayes, NC, Nellie (Angela) Goodwill, Salamanca, NY; three sons, David Brooks, Andrew Brooks, Phillip Goodwill, all of Salamanca, NY; 12 grandchildren; several great-grandchildren; two brothers, John Sullivan, MS, Harry (Darlene) Hendershot, Salamanca, NY; several nieces and nephews.
She was predeceased by a daughter, Roberta Donaldson, and four sisters, her twin Marie "Punky" Calkins, Rose Butler, Mary Panus, and Shari Lane Sullivan.
Friends may call at the O'Rourke & O'Rourke Inc. Funeral Home, 25 River Street, Salamanca, NY on Saturday, July 29, 2023 from 1 – 3 p.m., at which time funeral services will be held with Rev. Michael Lonto officiating.
Burial will be in Crawford Cemetery, Salamanca, NY.
E-condolences can be sent to orourke.orourkefh@gmail.com or posted to facebook.com/onofh.