Mary Ellen Brahaney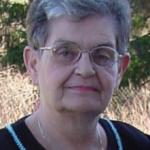 Mary Ellen Brahaney, 83, of Salamanca, NY died Thursday morning, August 24, 2023 at Buffalo General Hospital following a long illness.
Born August 28, 1939 in Salamanca, NY, she was the daughter of the late Charles and Catherine Coffey Roman. She was married on August 23, 1958 in the former St. Patrick's Church to James E. Brahaney, who predeceased her in 2008.
She was valedictorian of the Salamanca High School Class of 1957.
Mary Ellen had been employed as executive secretary and office manager with the former O'Laughlin Cadillac Buick GMC, Salamanca, NY for over 25 years and had previously been employed with the former LB Hartman Chevrolet, Salamanca, NY and the Comptroller's Office, City of Salamanca.
She was a member of Our Lady of Peace Parish and upon her retirement, she was employed as the church bookkeeper for several years. She was also a member of AARP, where she served as local President, the Zonta Club. She enjoyed spending time with her family, especially her two nieces, Carrie Struth, and Dr. Jill Eysaman-Walker, and their children, Jacob and Sarah Struth, and Ethan and Evelyn Walker. Mary Ellen was an avid reader, did crossword puzzles nightly, and enjoyed knitting and sewing. She loved traveling and had visited Poland, Rome, Italy, the Vatican, and Ireland with the church.
Surviving are: two sons, Mark A. Brahaney, Salamanca, NY, James E. (Jean) Brahaney II, Rochester, NY; a grandson, Matthew M. Brahaney, Bradford, PA; a sister, Debra (Joseph) Eysaman, Little Valley, NY.
She was predeceased by a daughter, Julie Brahaney, and a granddaughter, Meghan Douglas.
There will be no visitation.
A Memorial Mass will be held at Our Lady of Peace Parish, 274 Broad Street, Salamanca, NY on Saturday, September 9, 2023 at 11am with Rev. Patrick Melfi, formerly of Our Lady of Peace, officiating.
Burial will be in Calvary Cemetery, Salamanca, NY.
E-condolences can be sent to orourke.orourkefh@gmail.com or posted to facebook.com/onofh.