Mary Ellen Manning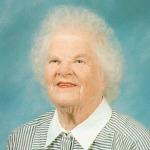 Mary Ellen Manning July 18, 1924 – November 12, 2021
Mary Ellen Manning of Ellicottville, NY passed away at The Pines, Allegany, NY where she had resided the past several years.
She was born in Sepulpa, OK, the only child of Fred Manning and Grace (Murphy) Manning, who had moved to Oklahoma during the oil boom there. However, they returned to Cattaraugus County soon after Mary Ellen was born.
She attended Elementary and High School in Ellicottville. She went on to graduate from the Bryant and Stratton Business Institute in Buffalo, NY. Thereafter, she enjoyed a long and successful career as a secretary for numerous businesses including M. Murphy Sawmilling and Otis Steel in Ellicottville. She completed her career at the Cattaraugus County Social Services Offices in Olean, NY.
Mary Ellen enjoyed living and maintaining her family home on Jefferson Street in Ellicottville. She always had a small "house dog" for her pet. She enjoyed reading, bus trips, senior citizen and church activities in the village. She was very prompt about remembering cousins, and friends with holiday cards and letters, even after she became a resident at The Pines. She is survived by cousins and their families.
There will be no visitation.
A Mass of Christian Burial will be held on Thursday, November 18, 2021 at 10:30 a.m. in the Holy Name of Mary RC Church, Ellicottville, NY.
Burial will follow at Holy Cross Cemetery in Ellicottville.
Funeral arrangements are under the direction of O'Rourke & O'Rourke Inc Funeral Home, 25 River Street, Salamanca, NY.
E-condolences can be sent to orourke.orourkefh@gmail.com.