Merle Green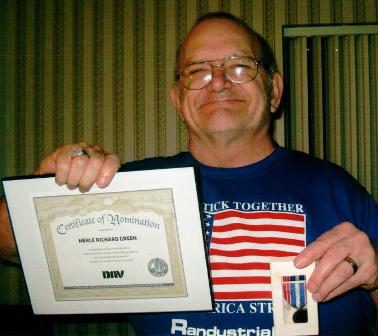 Merle Green Sr., age 69, of Eden Heights, Olean, New York died Tuesday, April 15, 2014 at the Veterans Hospital in Buffalo, New York.
Born August 2, 1944 in Franklinville, New York, he was the son of the late Simeon and Margaret Ackerman Green. He was married to the former Jean Louise Brown who predeceased him.
Mr. Green was a graduate of Randolph High School.
He was veteran of the U.S. Army serving with Company D in the 5th Battalion with the 31st Infantry and 197th Infantry in Vietnam. He was awarded the National Defense Service Medal, Vietnam Service Medal with 2 Bronze Service Stars, Vietnam Campaign Medal
Mr. Green was formerly employed at Crescent Tools in Jamestown, Protool in Jamestown, Fitzpatrick & Weller in Ellicottville, and Dahlstrom & Blackstone in Jamestown.
He was a member of Senior Total Care. He enjoyed Bingo, Coffee House, Langworthys, loved to go out to eat and loved music.
Surviving are: a son, Scott (Danielle) Green Sr., Kennedy, New York; 8 grandchildren; 3 great grandchildren; 5 brothers, Howard (Doreen) Green, Franklinville, New York, Clarence Green, Salamanca, New York, his twin, Melvin (Virginia) Green, Ellicottville, New York, Leon (Sharon) Green, Berkley Spring, West Virginia, Kenneth (Mary) Green, Napoli, New York; 2 sisters, Diane (Melvin) Slocum, Tennessee, Ellen (Ron) Boser, Cuba, New York; several nieces and nephews.
He was predeceased by a son, Merle Green Jr., a daughter, Lisa Proper, 4 brothers, Perry Green, Arthur Green, Walter Green, Roy Green, 3 sisters, Margaret Murphy, Marianne Green, Lenna Wheeler.
Friends may call at the O'Rourke & O'Rourke Inc. Funeral Home, 25 River Street, Salamanca, New York on Saturday from 10 to 11 am at which time funeral services will be held with Pastor Charles Elwell, of Valley Christian Assembly, officiating.
Burial will be in Mt. View Field of Honor, Olean, New York.
E-condolences can be sent to john @ orourke-orourke.com or posted to facebook.com/onofh.
In lieu of flowers, the family suggests memorials to the American Heart Association or the Donor's Choice.
Full military honors will be conducted by members of the American Legion Hughes-Skiba Post #535 and the Veterans of Foreign Wars John F. Ahrens Post #5296.