Merrie Jacobs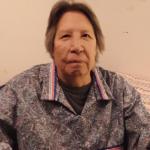 Merrie Jacobs, 65, of Salamanca, NY died Sunday morning, September 19, 2021 at UPMC Chautauqua following a short illness.
Born December 17, 1955 in Salamanca, NY, she was the daughter of the late Alfred and Reba Dowdy Jacobs.
She was an enrolled member of the Seneca Nation of Indians and the Turtle Clan and the Coldspring Longhouse.
She was a graduate of Salamanca High School, Class of 1974.
Merrie had been employed as a home healthcare aide with WILLCARE, Jamestown, NY and also was a private healthcare aide for people in their homes.
She enjoyed spending time with her family and going on long car rides. She also enjoyed the casino and was an avid Denver Broncos fan, as well as NASCAR.
Surviving are: two sons, Gabriel (Stacy) Harrison, Jamestown, NY, Brian Harrison, Lakewood, NY; five grandsons; three great-grandchildren; two sisters, Janice Bowen, Jimersontown, NY, A. Eileen Jacobs, Steamburg, NY; several nieces and nephews.
She was predeceased by two sisters, Elizabeth "Betsy" Jacobs, Cheryl Jacobs, and three brothers, Thomas Jacobs, Kirby Frank, and Randall Jacobs.
Friends may call at the family home of Janice Bowen, 3549 Center Road, Jimersontown, NY, beginning Wednesday afternoon, September 22, 2021 and continuing all day Thursday.
Funeral services will be held in the family home on Friday at 10am with members of the Coldspring Longhouse, officiating.
Funeral arrangements are under the direction of the O'Rourke & O'Rourke Inc Funeral Home, 25 River Street, Salamanca, NY.
Burial will be in Hillside Haven Cemetery, Steamburg, NY.
E-condolences can be sent to orourke.orourkefh@gmail.com or posted to facebook.com/onofh.