Merwin C. Maybee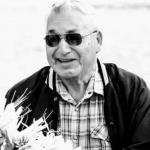 Mr. Merwin "Gomer" C. Maybee, 80, of Salamanca, NY died early Thursday morning, December 31, 2020 at Olean General Hospital.
Born December 15, 1940 in Gowanda, NY, he was the son of the late Harold Maybee and Ella R. Redeye. He was married to the former Sandra Taylor, who predeceased him in 2017.
He was an enrolled member of the Seneca Nation of Indians and the Wolf clan.
Mr. Maybee had been employed with Union Concrete for over 50 years retiring in 1998. He was a member of the International Labor Union Local 621, Olean, NY, and the Enchanted Mountain Beagle Club, Olean NY. He was also a former member of the AIRVFD.
He enjoyed the outdoors, hunting, fishing, and training his beagles. He was an avid Buffalo Bills fan.
Surviving are: a daughter, Roberta (Douglas) Redeye, Salamanca, NY; grandchildren, Jaclyn Hall, Akwesane, CA, Tewentenhawitha Lee Cooper, Wakeenniosta Rosie Cooper, both of Vancouver, British Columbia, Lacey Seneca, Irving, NY, Zoey Redeye, Salamanca, NY; three sisters, Janet Maybee, Salamanca, NY, Peggy John, Cattaraugus, NY, Tina Maybee, Little Valley, NY; five brothers, Ronald Bowen, Steamburg, NY, Michael "Billy" Maybee, Randolph, NY; Dennis Maybee, Henderson, NV, Jeffrey Maybee, Salamaca, NY, Bruce Maybee, Salamanca, NY; several nieces and nephews.
He was predeceased by a son, Steven T. Cooper, three sisters, Carol Halftown, Audrey Cooper, Maree Drennan, and a brother, Duane Maybee.
Friends may call at the family home, 3525 West Loop Road, Jimersontown beginning Saturday evening January 2, 2021 and continuing all day Sunday.
Funeral services will be held in the family home Monday at 2pm.
Funeral arrangements are under the direction of the O'Rourke & O'Rourke Inc Funeral Home, 25 River Street, Salamanca, NY.
Burial will be in Memorial Heights Cemetery, Jimersontown, NY.
E-condolences can be sent to orourke.orourkefh@gmail.com or posted to facebook.com/onofh.