Michael Moore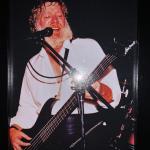 Michael Moore, 71, of Great Valley, NY died Saturday, March 20, 2021 at Olean General Hospital following a long illness.
Born October 17, 1949 in Salamanca, he was the son of the late Clyde and Stella Kellogg Moore. He was married for 31 years to the former Deborah Dickerson, who survives.
He was a graduate of Ellicottville Central School, Class of 1969.
He owned and operated D&M Trucking in Great Valley for over 30 years, as a long-haul truck driver. He had previously been employed at the former Signore's Inc. in Ellicottville for over 20 years.
Mike loved his wife, his family and friends, and music. He was a self-taught musician, learning to play the guitar at age 27. He played in multiple bands over the years and will be remembered for hosting many jamborees for benefits and events. He played the soundtrack for a lot of people's special moments in their lives. He was also a member of the Great Valley Fire Company.
Surviving besides his wife are: four daughters, Kim (Kevin) Watt, Tammy (Charlie) Grinols, Lisa (Jadd) Peters, Julie Oakes; two sons, Michael (Amy) Moore, Chad (Janine) Moore; ten grandchildren, Calum, Liam, Ainsley, Taylor, Cassie, Cyrene, Errol, Joza, Chay, and Makenzie; two great-grandchildren, Kohen and Lyvinea; a sister, Maureen (Shawn) Moore; two brothers, Ronald (Julie) Moore, Spencer (Patty) Moore; a stepsister, Connie (Bill) Drayer.
He was predeceased by a stepbrother, William Weller, and his stepfather, Ernest Weller.
There will be no visitation.
A Celebration of Life will be held at the convenience of the family and will be announced.
Funeral arrangements are under the direction of the O'Rourke & O'Rourke Inc Funeral Home, 25 River Street, Salamanca, NY.
In lieu of flowers, the family suggests memorials to the Ellicottville Central School Music Association, Attn: Crystal Wilder, 5873 Route 219, Ellicottville, NY 14731 or to the Ellicottville/Great Valley Ambulance Service, Inc., PO Box 74, Ellicottville, NY 14731.
E-condolences can be sent to orourke.orourkefh@gmail.com or posted to facebook.com/onofh.