Myron Abrams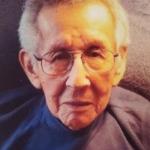 Mr. Myron F. Abrams, 98, of Jamestown, NY, died Friday morning, October 4, 2019 at the Salamanca Rehabilitation and Nursing Center.
Born March 7, 1921 in Batavia, NY, he was the son of the late Albert and Berusha Skye Abrams. He was formerly married to Rovena Watt. He was predeceased by his companion Lillian Denardi.
Mr. Abrams was an enrolled member of the Tonawanda Band of Senecas and the Snipe Clan.
He was a graduate of Akron High School and was a veteran of the United States Army, serving with the 11th Armored Division in the European Theater during WWII.
Mr. Abrams had been employed as a furniture finisher for various furniture companies for over 35 years, retiring with the Union National Furniture Company in Jamestown.
He enjoyed the outdoors, hunting, fishing, and trapping, and was an avid baseball fan, serving as a little league coach for many years. His favorite team was the NY Yankees. Mr. Abrams was also member of the Masonic F&AM and a life member of the Veterans of Foreign Wars in Jamestown.
Surviving are: three sons, Bruce (Renee) Abrams, Salamanca, NY, Brian (Linda) Abrams, Orchard Park, NY, and Stephen (Jadwiga) Abrams, Ocala, FL; two granddaughters, Katy Abrams, East Aurora, NY, and Reesa Abrams, Salamanca, NY; three grandsons, Zak Abrams, Brooklyn, NY, Caleb Abrams, Buffalo, NY, and Nathan Abrams, Salamanca, NY; a sister, Shirley Snyder, Tonawanda Reservation; and several nieces and nephews.
He was predeceased by five brothers, Roy B. Abrams, Woodrow Abrams Sr., Homer Abrams, Frank Abrams, and Walter Abrams; a half-sister, Cora Abrams; and two half-brothers, Wilber Abrams and Milton Abrams.
There will be no visitation.
Funeral Arrangements are under the direction of the O'Rourke & O'Rourke Inc. Funeral Home, 25 River Street, Salamanca, NY.
E-condolences can be sent to orourke.orourkefh@gmail.com or posted to facebook.com/onofh.