Nancy Barrile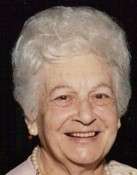 Nancy E. Barrile, age 86, of Killbuck, New York died Sunday, June 26, 2011 at The Absolut, Salamanca, New York surrounded by her family.
Born on May 17, 1925 in Vandalia, New York she was the daughter of the late Frank and Irene DeFabio Quattrone. She was married in the former St. Patrick's Church on October 12, 1946 to Mr. Anthony Barrile who survives.
Mrs. Barrile was employed as a cook for the Salamanca Central School System for over 10 years prior to her retirement. During WWII, she worked at the former Weston's Bakery packing C Rations for the troops.
She was a member of the former Ladies Auxiliary of the Killbuck Volunteer Fire Department, the former St. Patrick's Church, and loved her flowers and her grandchildren.
Surviving besides her husband are: a daughter, Judith Bess, Schenectady, New York; a son, Thomas Barrile, Killbuck, New York; 6 grandchildren, Lt. Col. Damian (Heather) Bess, Fredricksburg, VA, Major Darby Bess, Tampa, FLa, Dr. Christopher (Amanda) Bess, Walla Walla, Washington, Stephanie (Eric) Wade, Schenectady, New York, Lindsay Barrile, Elmira, New York, Nicole Barrile, Allegany, New York; 9 great grandchildren; several nieces and nephews.
She was predeceased by 4 brothers, Frank Quattrone, Joseph Quattrone, Victor Quattrone, Anthony Quattrone, 2 sisters, Josephine Quattrone, Tillie Storey.
Friends may call at the O'Rourke & O'Rourke Inc. Funeral Home, 25 River Street, Salamanca, New York on Wednesday from 2-4 and 7-9 P.M.
A Mass of Christian Burial will be held on Thursday at St. Patrick's Church, Limestone, New York at 11 a.m.
Burial will be in St. Patrick's Cemetery, Limestone, New York.
E-condolences can be sent to john@orourke-orourke.com or posted to facebook.com/onofh.