Paul R. Wieland
August 6, 1938 - February 16, 2023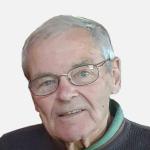 Buffalo Sabres media personality Paul Wieland of Great Valley, NY left this mortal coil on Thursday, February 16 and is now fishing in the bountiful lakes of the Great Beyond. He was 84 years old.
Journalist, jazz aficionado, and avid angler, Wieland was the winner of 27 reporting awards, both regional and national, and the author of four books. He spent the last 15 years of his professional life teaching news writing and broadcasting to journalism students at the Russ Jandoli School of Communication at St. Bonaventure University.
Wieland, himself a 1959 Bona's alumnus, cut his professional teeth as a reporter for the Bradford Herald, the Courier Express, and the Buffalo News before going to the dark side (his words) of corporate public relations at General Motors. When Northrup and Seymour Knox III acquired an NHL franchise in 1970, they recruited Wieland to the Buffalo Sabres front office; he was promoted to public relations director a few months later.
Wieland brought live broadcasting to the Sabres organization, first on radio, and later on television. As a color commentator, Wieland traded witticisms with his friend and colleague Ted Darling, sometimes in the guise of Ralph Sincere. He penned a wry column called At Sabrepoint and brought his characteristically zany sense of humor to all aspects of the Sabres organization.
As Wieland cultivated the team's media presence, he evolved into a sports television director and producer. His Sabres television operation became the training ground and launching pad for countless other professionals whom he mentored.
Wieland was best known to his colleagues and to sports media outlets as a prankster - his annual April Fool's press releases were serious enough to fool many an unaware reader. It was he who concocted fictional draft pick Taro Tsujimoto, the ice alternative Sliderex, and the designation purportedly made by President Ronald Reagan of the Sabres as "America's Team."
Wieland usually traveled with the team during the hockey season, and when the Sabres were practicing in Memorial Auditorium, he often suited up at midday to defend the net. The thrill of taking shots as practice goalie with great NHL players - including the French Connection of Gilbert Perrreault, Rick Martin, and Rene Robert - never wore off.
After a 25-year stint with the Sabres, Wieland ran a public television operation in Fitchburg, Massachusetts while directing and producing broadcasts for ESPN and other outlets as a freelancer. He returned to Western New York in 2002 to teach at his alma mater. Wieland loved to teach and felt tremendous pride in his students, many of whom stayed in touch with him long after graduation.
While Wieland's professional accomplishments tell part of the story of a mischievous extrovert, there would be more to a highlight reel summarizing his life. Narrated by Duke Ellington, the footage would include glimpses of hundreds of hours fishing in the Canadian North with his beloved father, uncles, and friends, along with snapshots from decades of summers Wieland spent with his family in North Hero, Vermont, along the shores of Lake Champlain - jazz playing on the stereo, cold Canadian brew in hand, his golden retrievers and a rotating stack of nonfiction at his side.
Wieland is survived by his devoted wife of 61 years, Mary Elizabeth "Betsy" Wieland, and by his sister Annemarie Jason, his three daughters, Cynthia Meyer (Steve), Karen Wieland, and Caitlin Bauer, and his grandchildren Samantha and Declan Meyer. His absence will be felt deeply by a multitude of in-laws, cousins, nieces, nephews, friends, colleagues, and students.
A Memorial Mass will be held at the St. Bonaventure University Chapel on Saturday, March 4,2023 at 12 p.m, followed by a gathering in Doyle Hall.
In lieu of flowers, donations in Wieland's honor can be made to the St. Bonaventure Jandoli School of Communication.
Funeral arrangements are under the direction of the O'Rourke & O'Rourke Inc Funeral Home, 25 River Street, Salamanca, NY.
E-condolences can be sent to orourke.orourkefh@gmail.com or posted to facebook.com/onofh.