Ralph E. Bowen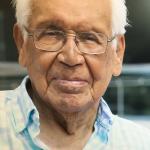 Mr. Ralph E. Bowen, 98, entered his heavenly home to be with his "Lord and Savior" Monday, December 7, 2020 surrounded by his family at their home in Jimersontown, NY.
Born August 8, 1922 in Coldspring, NY, he was the son of the late Francis and Bertha Buck Bowen. He was married to Delores "Dee" Jimerson Oldshield who predeceased him in 2009. He had previously been married to the late Eleanor Jimerson Bova who predeceased him in 1989 and the late Annabelle Clark Bowen who predeceased him in 1974.
He was an enrolled member of the Seneca Nation of Indians and the Snipe clan. He was a direct descendant of Chief Cornplanter.
Mr. Bowen attended Indian School District #2, Robinson Run, Coldspring, NY and the Thomas Indian School, Cattaraugus Territory. He earned his Associate Degree in Theology from Mt. Echo Bible Institute, Humphrey, NY.
He was a veteran of the United States Army Air Corp, earning the rank of Sergeant during WWII, serving along with his three brothers who were also in the European Theater. He flew combat missions with the 2nd 723rd bomb group squadron, known as "The Cottontails" out of the Manduria Airbase, Italy. On October 2, 2020, he was inducted into The Senators New York State Veterans Hall of Fame, nominated by Senator George Borrello. He received many citations and honors including The European/African/Middle Eastern Campaign Medal with one Silver Service Star. Ralph is the second Native American and the first Seneca to receive the Appointment to the grade of Knight in the Order of the Legion of Honor from the French government which was presented on the 75th Commemoration of D-Day in France, June 6, 2019.
Mr. Bowen had been employed as an ironworker with Local #3, Erie, PA and Laborers Local #621, Olean, NY for over 25 years. He had also been employed with the Seneca Nation of Indians, serving as a five-term counselor and a three-term Peacemaker Judge. He also served as Chief Marshall and as the assessor for the Seneca Nation of Indians. He also worked as a language teacher with the Seneca Nation Language Dept for over five years and also worked as a manager at the High Banks Campgrounds. He was a devoted preacher, starting in 1959 at the former Red House Baptist Church, Red House, NY what became later known as the Red House Memorial Chapel, Jimersontown, speaking the Word there until his retirement in 1990 where he was also a member of the Point Man Ministry Outpost. He was a member of the Iroquois American Legion Post 1587.
He enjoyed studying the Bible and was an avid reader, known to read late into the night.
Surviving are: two daughters, Jacqueline Bowen, Salamanca, NY, Rebecca Bowen, Jimersontown, NY; a son Dennis (Alita) Bowen, Jimersontown, NY; four stepchildren, Arlene Bova, Salamanca, NY, Darlene Bova, Steamburg, NY, Christopher Bova, Salamanca, NY, Anson (Jo) Bova, Oil Springs Territory, NY; 13 grandchildren; several great and great-great-grandchildren, nieces, and nephews.
He was predeceased by an infant sister, Lucille Bowen, three brothers, Leslie Bowen, Acel Joseph Bowen, and Elwood Bowen.
Private funeral services will be held at the O'Rourke & O'Rourke Inc. Funeral Home, 25 River Street, Salamanca, NY on Friday, December 11, 2020 with Winfield Bowen, nephew of the deceased, officiating.
The public is invited to join the family at Memorial Heights Cemetery, Jimersontown, NY at 11am.
Full military honors will be conducted by members of the Iroquois American Legion Post 1587.
E-condolences can be sent to orourke.orourkefh@gmail.com or posted to facebook.com/onofh.