Rebecca E. Strang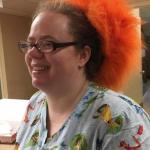 Rebecca Erin Strang, 43, of Salamanca, NY formerly of Middletown, NY, died Saturday morning, February 25, 2023 at home.
Born August 10, 1979 in Goshen, NY, she was the daughter of the late Robert E. and Mary A. Sherer Dall. She was married in 1999 to Brian K. Strang, who survives.
She was a graduate of Middletown High School, Class of 1997. While Rebecca was in high school, she met the love of her life Brian Strang while visiting family in upstate New York.
Rebecca had been employed as a nurse's aide with Absolut Care of Salamanca.
She was a fan of tie-dye and the Grateful Dead. She was diagnosed with breast cancer in June of 2021. Her diagnosis never got her down; she always had a positive outlook and was confident she was going to beat it. She did get an "all clear" this summer from her doctors but in December, she found out the cancer was back and now throughout her body. Being the warrior she is, Rebecca did not let that slow her down and she vowed to conquer cancer again. Unfortunately, the cancer was too aggressive this time and she succumbed to her illness very rapidly. Rebecca's husband, Brian,, took care of her every need until her passing. She is an inspiration to her family for being such a strong, brave, and loving person.
Surviving besides her loving husband of 23 years husband are: two sons, Jerome and Jaxson Strang; three sisters, Deborah Ann (Ronald) Alindogan, Donna Marie (Chuck) Frank, her twin, Elizabeth Ruth (Carlos) Cruz; three brothers-in-law, David Strang, Scott Strang, Matt Strang; aunts, uncles, beloved nieces, nephews, great-nieces, and cousins.
She was predeceased by her grandparents, Edward and Mary Dall, and Clayton and Ruth Sherer, and uncle, Jack Sherer, and mother-in-law Ann Strang.
Friends may call at the O'Rourke & O'Rourke Inc Funeral Home, 25 River Street, Salamanca, NY on Thursday, March 9, 2023 from 4 – 6pm at which time funeral services will be held with Rev. Michael Lonto officiating.
A celebration of life will be held on Saturday, March 11, 2023 at 12pm at the AIRVFD, 8184 E Loop Road, Salamanca, NY 14779.
E-condolences can be sent to orourke.orourkefh@gmail.com or posted to facebook.com/onofh.