Rex C. Bickmore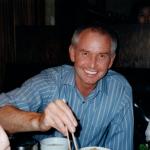 Rex Cardon Bickmore, born January 30,1944 in Ogden, Utah, passed away in his Steamburg, New York, home on April 6, 2020 after a difficult battle against Non-Hodgkin's lymphoma cancer. He was 76. Throughout his life Rex was committed to the performing arts, especially dance.
Raised in Utah, Rex was the son of Caroline Cardon Bickmore and Reed Orgill Bickmore. His paternal grandparents were Leah Orgill Bickmore and Ellery M. Bickmore and maternal grandparents were Ada Diantha Pierce Cardon and Louis Leander Cardon.
As an adolescent, Rex's family moved from Ogden to Salt Lake City and during his junior and high school years, Rex developed a passion for dance. He started with 'tap' lessons, moved on to modern dance lessons in high school, and at 16, started taking ballet classes at the nearby University of Utah. After graduating high school, he received a scholarship to the San Francisco Ballet School and moved into an eight-year career as a professional ballet dancer. He danced for professional companies such as the San Francisco Ballet (San Francisco, CA), the Joffrey Ballet Company (New York City, NY) and the New York City Ballet (New York City, NY). While in these companies he worked with several 'greats' in the dance world and was extremely grateful for that opportunity. These greats included George Balanchine, Anna Sokolow, Robert Joffrey, the Christensen Brothers (Lew, William & Harold) and Kurt Joss.
After his professional dance career was over, Rex moved to a spiritual community called the Lama Foundation, opened and ran a restaurant in Taos, New Mexico, and enrolled at the College of Santa Fe where he obtained a bachelor's degree in biology/pre-med.
After graduation he secured a position with Controls for Environmental Pollution (CEP), an environmental laboratory and consulting firm; over time, he held multiple positions at CEP, from Director of Marketing to Vice President. In 1985 Rex moved to Washington, D.C., where he worked for Nuclear Power Consultants (NPC) as their Marketing Director. For the duration of these positions, Rex continued to teach dance, choreograph, and produce dance concerts.
In a return to his calling, Rex was offered a position with The Washington Ballet in 1988, and held multiple positions, such as Associate Director, Company Manager, and Director of Education and Community Programs. In 1999, Rex became the Executive Director for The Musical Theatre Center (MTC), a performing arts training facility for children.
After 10 years at MTC, Rex retired and moved to Steamburg, New York with his partner and spouse of nearly 26 years, Stephen Watt. In 2010 Rex took a part-time job at Starbucks in Jamestown, NY, where he worked as a barista until 2019.
Surviving besides his spouse are his older sister, Brenda (Boyd) Debenham, and younger brother Bart (Jolene) Bickmore and many nephews, nieces, great nephews, and great nieces.
A life celebration was held to remember Rex on Saturday, July 25, 2020, with burial at Hillside Haven Cemetery, Steamburg, NY. The interment service was followed by a gathering at his home in Steamburg.
Funeral arrangements are under the direction of the O'Rourke & O'Rourke Inc Funeral Home, 25 River Street, Salamanca, NY.
E-condolences can be sent to orourke.orourkefh@gmail.com or posted on Facebook.com/onofh.