Richard "Dick" DeBoy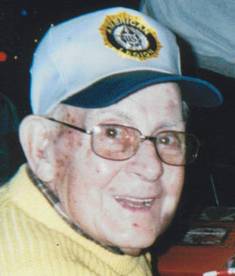 Mr. Richard Donald DeBoy, age 88, of Salamanca, NY died Wednesday evening, August 1, 2012 at the Veterans Hospital, Buffalo, NY following a brief illness.
Born on June 29, 1924, he was the son of the late John and Jule Conners DeBoy.
Mr. DeBoy served the United States Army with General George Patton in the 26th Yankee Division, 961st Engineers, where he was a rifleman. He served in the European Theatre during WWII, and was wounded in Northern France on August 22, 1944 and in Luxembourg on January 3, 1945. Mr. DeBoy was awarded two Purple Hearts, the EAME Service Medal, the Combat Infantry Badge, and the Good Conduct Medal.
He was employed in maintenance at the L. F. Smith Dairy for twenty-six years. He also held positions at Fancher Furniture for four years, working during the night shift; Luminite for four years; and Highland Plastics for four years. In his retirement, he was a self-employed electrician.
He was a member of the American Legion Hughes-Skiba Post #535 and of the Veterans of Foreign War John F. Ahrens Post #5296.
Surviving are 5 sons, Dennis (Cheryl) DeBoy, Great Valley, NY; Terry (Susie) DeBoy, Salamanca, NY; Bruce (Cheryl) DeBoy, Great Valley, NY; Donald DeBoy, Great Valley, NY; Dana (Linda) DeBoy, Salamanca, NY; 2 daughters, Carol DeBoy, Salamanca, NY; Diane (Kenny) DeBoy-Kennison, Salamanca, NY; 12 grandchildren; many great-grandchildren; 1 brother, Russell (Diane) DeBoy, Ocala, FL; 3 sisters, Irene (Thomas) Frank, Salamanca, NY; Margaret Couch, Westline, PA; Jean Kasmarski, Akron, NY.
He was predeceased by 2 brothers, Francis and James DeBoy.
Private family services will be held at the convenience of the family.
Burial will be in Calvary Cemetery, Salamanca, New York.
E-condolences can be sent to john@orourke-orourke.com or posted to facebook.com/onofh.