Ricky A. Bargy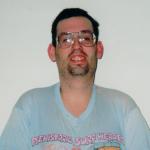 Ricky A. Bargy, 50, of Franklinville, NY, formerly of Salamanca, NY, died Tuesday, June 22, 2021 at the Salamanca Rehabilitation & Nursing Center following a short illness.
Born March 4, 1971 in Buffalo, NY, he was the son of the late Floyd E. and Catherine Moore Bargy Sr.
He was a graduate of Salamanca High School, Class of 1989.
Ricky had been employed with McDonalds, Salamanca, NY
He enjoyed spending time with his family, attending the Crosstown Alliance Church, Arcade, NY, watching all kinds of sports, and will be remembered for his vast sports knowledge. He especially enjoyed football and watching his Tampa Bay Buccaneers.
Surviving are: three sisters, Josephine Padgett, Marcella Bargy, both of Swanton, MD, Marie Bargy, Franklinville, NY; Floyd (Carol) Bargy, Swanton, MD; several nieces, nephews, and two aunts.
He was predeceased by three sisters, Katherine Endler, Nancy Jerread, Lou Ann Bloye, a brother, Herbert Bargy, a nephew, Joseph Fisher.
Memorial visitation will be held at the Crosstown Alliance Church, 7833 Route 98, Arcade, NY, on Saturday, June 26, 2021 from 10 – 11am at which time a Memorial Service will be held with Pastor Stu Burton officiating.
In lieu of flowers, the family suggests memorials be sent to Crosstown Alliance Church, 7833 Route 98, Arcade, NY.
Funeral arrangements are under the direction of the O'Rourke & O'Rourke Inc. Funeral Home, 25 River Street, Salamanca, NY.
E-condolences can be sent to orourke.orourkefh@gmail.com or posted to facebook.com/onofh.