Robert C. Williams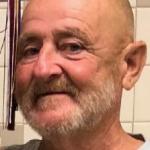 Mr. Robert Williams,70, of Great Valley, NY, died unexpectedly Sunday morning, March 8, 2020.
Born August 6, 1949 in Salamanca, NY, he was the son of the late nRalph and Vida Baker Williams.
Mr. Williams graduated from Ellicottville High School, class of 1968.
He was currently employed at Schichtels Nursery, Springville, NY. Prior, he had been employed with AVM Signore, Ellicottville, NY for over 30 years and Kenny Trucking, Great Valley, NY.
Mr. Williams was an avid hunter who enjoyed being in the woods. He also enjoyed driving around and watching wildlife. He was a former member of the Great Valley Fire Company and enjoyed the early regattas.
Surviving are: his longtime companion of 25 years, Sandra Byroads, Great Valley, NY; a daughter, Tracy (Theodore) Robinson, Great Valley, NY; two sons, Troy (Kim Reese) Williams, Great Valley, NY, Toby (Bethany) Williams, Monroe, GA; six grandchildren; Mckenzie Robinson, Lindsey Robinson, Kourtney Robinson, Kyle Robinson, all of Great Valley, NY, Tyler Williams, Emma Williams, both of Monroe, GA; two sisters, Betty Ann Moore, Great Valley, NY, Rosie (Frank Ditcher) Harrington, Great Valley, NY; a brother George (Allie) Emerson, Little Valley, NY; several nieces and nephews.
He was predeceased by a brother, Edwin (Bucky) Emerson.
There will be no visitation.
A memorial graveside service will be held at the convenience of the family and will be announced.
Funeral Arrangements are under the direction of the O'Rourke & O'Rourke Inc. Funeral Home, 25 River Street, Salamanca, NY.
E-condolences can be sent to orourke.orourkefh@gmail.com or posted to facebook.com/onofh.