Robert D. Stark Sr.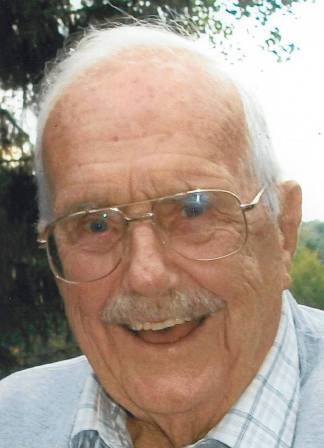 Mr. Robert D. Stark Sr., age 90, of Barker Run Road, Great Valley, New York died Sunday, October 14, 2012 at Mercy Hospital, Buffalo, New York following a short illness.
Born on June 25, 1922 in Salamanca, New York, he was the son of the late Howard & Lillian Bailey Stark. He was married on June 10, 1948 to the former Rosemond E. LeBlanc who predeceased him on September 1, 2004.
He was a graduate of Salamanca High School Class of 1940.
Mr. Stark was a veteran of WWII serving in the U.S. Navy aboard the U. S.S. Rodman.
He founded the Salamanca Beverage Company with his father, Howard G. Stark, and later was joined by his brother the late Howard W. Stark and worked there until his retirement in 1984. For the past 15 years he has worked with his daughter at Molly Brown's Sign Shop in Lakewood, New York.
Mr. Stark spent time each winter at his home in Port Charlotte, FL, he enjoyed traveling, sailing his boat at Onoville, and spending time with his family and friends. He was a former member of the Salamanca BPO Elks Lodge 1025, the Olean Elks Club. He was a 68 year member of both the American Legion Hughes-Skiba Post #535 and the Veterans of Foreign Wars John F. Ahrens Post #5296.
Surviving are: 3 sons, R. David (Carol O'Brien) Stark Jr., Great Valley, NY, Terry (Chris) Stark, Howard Stark, both of Salamanca, NY; 2 daughters, Beth (Joe) Riethmiller, Salamanca, NY, Molly (Dennis) Brown, Jamestown, NY; 11 grandchildren; 9 great grandchildren; several brothers- and sisters-in-law.
He was predeceased by 2 sons, Jeffrey Stark, Thomas Stark, 2 grandchildren, Jamie Lee Brown and Dana Stark, and a brother, Howard Stark.
Friends may call at the O'Rourke & O'Rourke Inc. Funeral Home, 25 River Street, Salamanca, New York on Wednesday from 4-8 P.M.
Funeral services will be held in the funeral home on Thursday morning at 11 A.M..
Burial will be in Green Cemetery, Great Valley, New York. Full military services will conducted by members of the American Legion Hughes-Skiba Post #535 and Veterans of Foreign Wars Post #5296.
E-condolences can be sent to john@orourke-orourke.com, or posted to facebook.com/onofh.