Roberta Seeley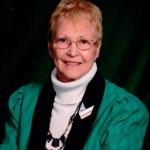 Roberta Seeley, 76, of Great Valley, NY, died Sunday, January 2, 2022 at Mercy Hospital, Buffalo, NY following a long illness.
Born August 23, 1945 in Lancaster, PA, she was the daughter of the late Charles and Barbara Welsh Wireback. She was married in Xenia, OH to Burt L. Seeley, who survives.
She was a member of St. Paul's Lutheran Church, Ellicottville, NY. She enjoyed travel adventures, community activities, and was an avid reader. She was referred to as "Greatest Aunt Bobbie" and loved spending time with her nieces and nephews. She helped with Girl Scouts and other activities, and was a great singer, sometimes singing with a band. She was a great friend and neighbor and always willing to help anyone.
Surviving besides her husband are: two stepdaughters, Laurie Weatherly, Des Moines, IA, Lisa (Mike) Johnson, Litchfield, MN; a stepson, Andrew (Brittany) Seeley, Granger, IA; a nephew, Joe (Missi) Krawizcki; two nieces, Melissa (Matt) Lewis, Kimberly Krawizcki; eight great-nieces and nephews, Gracyn and Gavin Krawizcki, Joshua, Benjamin, Samuel, Sophia, and Anna Lewis, Sara (Waltman) King; six grandchildren; twelve great-grandchildren. She was predeceased by a sister, Elizabeth Krawizcki.
Friends may call at the O'Rourke & O'Rourke Inc. Funeral Home, 25 River Street, Salamanca, NY on Saturday, January 8, 2022 from 11:30am - 1pm at which time funeral services will be held with Pastor Dan Buringrud officiating.
Burial will be in Rathbun Cemetery, Hanover Center, NY at the convenience of the family.
In lieu of flowers, the family suggests memorials be sent to Disabled Veterans of America, 130 S Elmwood Avenue, #620, Buffalo, NY 14202, or to Burt L. Seeley, 5193 Humphrey Road, Great Valley, NY 14741.
E-condolences can be sent to orourke.orourkefh@gmail.com.