Ronald W. Miller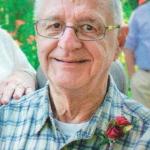 Mr. Ronald Miller, 79, of Salamanca, NY died peacefully after a long battle with Muscular Dystrophy early Monday morning, January 18, 2021 at home.
Ron was born in Salamanca in 1941 and graduated from Little Valley Central School in 1959. He was an Eagle Scout and later received a Bachelors Degree from Crane School of Music, SUNY Potsdam in 1964, and completed graduate work at SUNY Fredonia.
After 2 ½ years working as the Senior High Band Director of Albany High School, he became Junior High Band Director at Salamanca City Central School. He went on to become Stage Band Director, High School Band Director, and Marching Band Director before retiring after 27 years of service.
He served in the United States Army from 1966 – 1968 and in Vietnam in the 525th Military Intelligence Group. He earned the National Defense Service Medal, Vietnam Campaign Medal, Army Commendation Medal, and the O/S Bar & Good Conduct Medal.
He played in area Big Bands for over 30 years, under the direction of Wes Bowen and Bob Lucia. He was also pit band director for many Village Players musicals.
Surviving are: his wife of 52 years, Nan E. Winship Miller; a son, Steven (Jess) Miller; a daughter, Mindy (John) Collins; two granddaughters, Aubrey and Réme Lynn; a brother, Bob (Karen) Miller; a brother-in-law, Bruce Winship; several nieces and nephews.
He was predeceased by his parents, Herman William Miller and Corabell Katherine Carroll.
Ron lived a full and rich life and was devoted to his family, friends, and community. Due to COVID-19 restrictions, there will not be a service at this time.
A memorial service will be held Friday, July 16, 2021 at 1 p.m. at the Riverside Chapel, 134 Broad Street, Salamanca, NY with Rev. Michael Trenchard officiating. Church parking is available at the Front Avenue entrance with elevator access.
Full military honors will be conducted by members of the American Legion Hughes Skiba Post 535 and the Veterans of Foreign Wars John F. Ahrens Post 5296.
Ron would be honored if you wished to make a contribution to E.A.R.S., P.O. Box 445, Salamanca, NY, the VA in Jamestown, 610 West 3rd Street, Jamestown, NY, or the Salamanca Public Library, 155 Wildwood Avenue, Salamanca, NY.
E-condolences can be sent to orourke.orourkefh@gmail.com or posted to facebook.com/onofh.