Ronda Lynn John-Murphy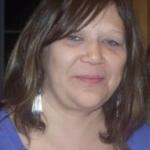 Ronda Lynn John-Murphy, 50, of Jimersontown, NY died Friday, December 24, 2021 at Buffalo General Hospital, Buffalo, NY following a long illness.
Born December 18, 1971 in Erie, PA, she was the daughter of Charles T. Murphy and Nancy C. John Sutton.
She was an enrolled member of the Seneca Nation of Indians, the Beaver Clan, and the Coldspring Longhouse.
Ronda attended Olean High School, Olean, NY.
She had been employed with the Seneca Nation of Indians in the Archives Department and had previously been employed in the Child and Family Department and the Seneca Allegany Casino, Salamanca, NY.
She enjoyed spending time with her family and attending her nieces' and nephews' sporting events. She loved the outdoors, especially camping, and she will be remembered for supporting local native businesses.
Surviving are: a son, Jarred W. (Jennifer Rolon) Murphy, Salamanca, NY; two grandsons, Jeremiah and Jax; a sister, Trishelle (Barney Clark) Murphy, Salamanca, NY; a brother, Brian (Christine) Murphy, Salamanca, NY; nieces, Savannah, Emily, Abigail, Marijah, Amy, Kristi; nephews, Eric, Arliss, Torrance, Adam, Jayden, Joseph; a special step-sister, Kimberly Ricci, Allegany, NY.
Friends may call at the Coldspring Longhouse, Steamburg, NY beginning Monday afternoon, December 27, 2021 and continuing all day Tuesday.
Funeral services will be held at the Coldspring Longhouse on Wednesday at 10am with members of the Coldspring Longhouse officiating
Burial will be in Memorial Heights Cemetery, Jimersontown, NY.
In lieu of flowers, the family suggests memorials be sent to the Roswell Park Comprehensive Care Center, 665 Elm St, Buffalo, NY 14203.
Funeral arrangements are under the direction of the O'Rourke & O'Rourke Inc. Funeral Home, 25 River Street, Salamanca, NY.
E-condolences can be sent to orourke.orourkefh@gmail.com.