Rudolph G. Crowe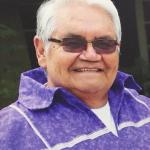 Rudolph G. Crowe, 82, of Steamburg, NY died Saturday evening, August 26, 2023 at home following a short illness.
Born April 29, 1941 in Salamanca, NY, he was the son of the late Ernest and Sally Halftown Crowe. He was married on August 23, 2014 in Jimersontown, NY to the former Patti Furlong, who survives. Previously, he had been married to the former Judy Jacobs, who predeceased him in 2012.
He was an enrolled member of the Seneca Nation of Indians and the Wolf Clan.
Rudolph attended the former Maple Street School, Salamanca, NY.
He had been employed as an industrial kiln operator in Lima, NY for over 50 years. Upon his retirement, he had worked at the Seneca Nation DPW and also as a pump manager at the Steamburg Smoke Shop.
He enjoyed spending time with his family, gaming, and in his younger days, he was an avid archer competing in local events.
Surviving besides his wife are: three daughters/granddaughters, Debbie Crowe, Naples, NY, Akiya Crowe, Salamanca, NY, Christina Crowe, Jamestown, NY; two sons, Justin (Tina) Crowe, Jacksonville, FL, Stacey (Esther) Crowe, East Randolph, NY; six granddaughters, Rikisha, Caitlyn, Hadley, Tarah, Brittany, Megan; nine grandsons, Levi, Jaxson, Zachary, Dillon, Collin, Zachory, Austin, Nick, Gavin; five great-grandchildren; several nieces and nephews including, Tyler, Megan, Shawn, Katie, Eric, Keegan, Kasen, Karrah; special friend and native brother, Marty Crouse; his beloved cats, Smokey, Oscar, Pumpkin, Cuse, August and Tippy.
He was predeceased by a daughter Samantha Crowe, a son, Timothy George, and a sister, Patty Wilcox.
Friends may call at the O'Rourke & O'Rourke Inc Funeral Home, 25 River Street, Salamanca, NY on Saturday, September 2, 2023 from 4 – 7pm. .
Funeral services will be held in the funeral home on Sunday at 1pm with Rev. John Harvey of the New Apostolic Church, Randolph, NY officiating.
Burial will be in Hillside Haven Cemetery, Steamburg, NY.
E-condolences can be sent to orourke.orourkefh@gmail.com or posted to facebook.com/onofh.