Ruth E. Carnes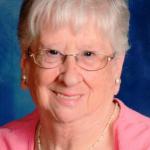 Ruth E. Carnes, 86, formerly of Great Valley, NY died Sunday, September 18, 2022 at The Pines Health & Rehabilitation Center, Olean, NY following a short illness.
Born July 15, 1936 in Great Valley, NY, she was the daughter of the late Albert and Ethel Kenyon Carnes.
She attended Ellicottville High School.
Ruth had been employed as a lunch service attendant with Ellicottville Central School for over 30 years and loved getting to know all the kids. She was known as Aunt Ruthie to many and will be remembered for babysitting many children throughout the Great Valley area.
Ruth was a Christian woman with a strong faith. She was a lifetime member of the United Methodist Church in Great Valley, NY where she also enjoyed attending Tuesday Bible Study. She was comforted to know that she was going home to Jesus and into the arms of her loved ones who had passed before her. She will be dearly missed.
Surviving are: a sister, Nancy Carnes Ramsten, Great Valley, NY; nine nieces and nephews, Gene, Tracy, Teresa, Lorri, Jeff, Roland, Kelli, Julie, Jason; many grand nieces and nephews; her church family and special friends, Steve and Bridgett Ward.
She was predeceased by three brothers, Glen, Roland, and James Carnes.
There will be no visitation.
A memorial service will be held at the Great Valley Community Church (United Methodist Church), Great Valley, NY with Pastor John Green, officiating on Thursday, October 6, 2022 at 1 p.m.
Burial will be in Green Cemetery, Great Valley, NY.
In lieu of flowers, the family suggests memorials be sent to the Great Valley Community Church, 5063 Route 219, Great Valley, NY 14741.
E-condolences can be sent to orourke.orourkefh@gmail.com or posted to facebook.com/onofh.