Ruth M. LaBelle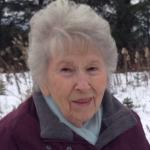 Ruth Marie LaBelle of Ellicottville, NY, died Thursday morning, May 4, 2023 at home, surrounded by her loved ones, after 94 wonderful years of life.
Born February 25, 1929 in Buffalo, NY, she was the daughter of the late Henry and Ruth Lauber Zwilling. She was married on October 4, 1947 to the love of her life, Radolph J. LaBelle, who predeceased her in 2013 after 64 years of marriage.
A pillar of the Ellicottville community, Ruth brought joy and kindness to everyone in the town since moving there in 1978. She was an active and committed member of Holy Name of Mary RC Church in Ellicottville, where she and Rudy ran the annual rummage sale fundraiser for over 15 years. Their service to the church was so dedicated that they were honored by the Diocese with the St. Joseph the Worker award in 2012. She sang in the church choir up until her 93rd birthday.
Ruth loved sewing for her family, making matching dresses for all of her daughters for every holiday. Later, she began quilting, and made quilts for every marriage and birth of family and friends. She was an avid reader, knitter and crocheter. She enjoyed all music, and especially liked going to the opera.
A veteran of civil service, Ruth had been employed in various Erie County capacities, retiring as a senior clerk with the Erie County Highway Department in East Concord. Her greatest love, though, was family. It is impossible to count the number of times she saw her children, grandchildren and great grandchildren perform in concerts, plays and sports. As eagle-eyed readers will note from the volume of names in the survivors paragraphs below, there were a lot of opportunities to see family in one thing or another, and Ruthie treated them all as precious and not to be missed. A child of the Great Depression, Ruthie treated life as something to be enjoyed to the fullest. Those fortunate enough to know her will forever remember her laughter and infectious smile, and watching her dance with Rudy. With five children in a small house, her sense of humor was as vital to her family's well-being as her baking skills. A small comfort to the world is that, now that Ruthie is gone, someone else will finally be able to inherit the title of the world's best brownies.
Surviving are three daughters, Darrell Duermyer, Diane (Norman Girardot) LaBelle, and Donna Finnegan; five grandchildren, Dawn (Michael) Piatkowski, Gregory (Catherine Morrow) Heller-LaBelle, Michael Finnegan, Madison Finnegan, and Brianne (Nick) Matthewson; three great-grandchildren, Savannah and Connor Piatkowski, and Landon LaBelle; four half brothers, Richard, Daniel, Fred and Artie Zwilling; a half-sister, Geraldine Kittinger; and four stepsiblings, Jack Montondo, Joan Ashlock, Mary Cirbus, Judy Herman; and her cat, Agnus.
Ruth was predeceased by son, Michael LaBelle and daughter, Denise Worral, sister Edna Northrup and stepbrother Jim Montondo.
Friends may call at the O'Rourke & O'Rourke Inc. Funeral Home, 25 River St., Salamanca, NY on Sunday, May 7 from 3:00-6:00 pm.
A Mass of Christian Burial will be held at Holy Name of Mary RC Church 22 Jefferson St., Ellicottville NY on Monday, May 8, 2023 at 10:00am with Rev. Dennis Mancuso, as celebrant.
Burial will be in Holy Cross Cemetery, Ellicottville, NY immediately following Mass.
In lieu of flowers, donations may be made to the Ruth and Rudy LaBelle fund at charterarts.org.
E-condolences can be sent to orourkeorourkefh@gmail.com