SPC Kyle Mason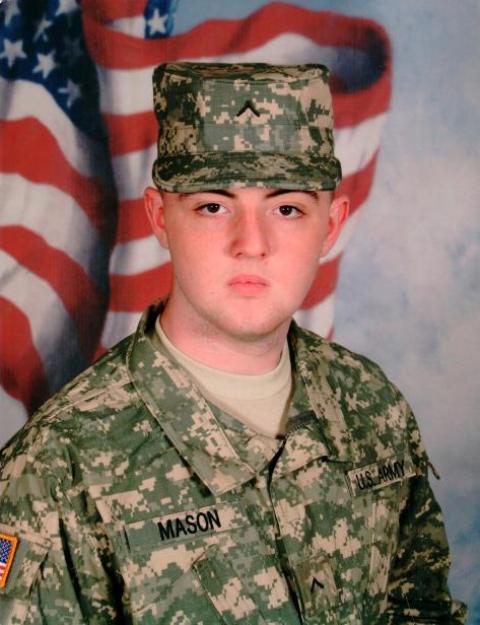 SPC Kyle R. Mason, age 23, of Ft. Lewis, Washington, died as a result of injuries sustained in an automobile accident on June 1, 2014.
Born July 28, 1990 in Buffalo, New York, he was the son of Belinda Mason of Catskill, New York and Robert Barletta of Brattleboro, Vermont. He was married in 2009 to the former Lacey Privatera of South Carolina, who survives.
Kyle was a graduate of Salamanca High School, Class of 2008. He had attended JCC in Jamestown, New York before joining the United States Army at Ft. Leonardwood, Missouri. Kyle was serving as a HVAC Specialist at Ft. Lewis and had served one tour of duty in Afghanistan. He was currently preparing for re-deployment.
Kyle enjoyed the outdoors, the music, and arts. He was devoted to him family, friends, and community.
During high school, he played varsity lacrosse, football, and bowling. He played the trumpet in the high school band, chorus, and was a member of the drama club. He had also sung with the Seneca Junction, a barber shopping group, and had been selected for All County and All State chorus. He had also attended Boy's State.
Surviving besides his parents are; 5 aunts, Barbara (Gene) Nunn, Kane, PA, Maureen (Robert) Simon, Ashville, NC, Patricia Mason, Buffalo, NY, Gina Barletta, Jacksonville, FL, and Margaret Barletta, Brattleboro, VT; 3 uncles, Todd (Melinda) Mason, Catskill, NY, Eric (Angie) Mason, Charlotte, NC, Tony (Tammy) Barletta, Pinkerton, OH; several aunts, uncles, and cousins.
He was predeceased by his maternal grandparents, Walter and Carol Hull Mason, paternal grandfather, Harold Barletta, who served in the US Army during WWII, an aunt, Karen M. Haas, and an uncle, Kenneth H. Mason.
Friends may call at the O'Rourke & O'Rourke Inc. Funeral Home, 25 River Street, Salamanca, New York on Thursday, June 12, 2014 from 2 – 4 & 7 – 9 p.m.
Funeral services will be held on Friday at 11 a.m. at United Congregational Methodist Church, 134 Broad Street, Salamanca, New York with Pastor Raymond Gilman, officiating.
Committal services with full military honors will be held at Wildwood Cemetery, Salamanca, New York.
In lieu of flowers, the family suggests memorials to the Salamanca Public Library's Memorial Fund, the Alzheimer's Association, or the American Cancer Society.
E-condolences may be sent to john@orourke-orourke.com or posted to facebook.com/onofh