Samuel B. Letcher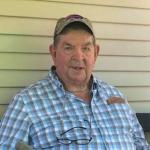 Samuel B. Letcher, 91, of Salamanca, NY died Tuesday evening, July 13, 2021 at the Absolut Care of Salamanca following a short illness.
Born July 4, 1930 in Reade Township, PA, he was the son of the late James and Kathryn David Letcher. He was married on January 23, 1952 in Grand Island, NY to the former Mary E. Barry, who predeceased him in 2008.
He was a graduate of Turtle Creek High School, Class of 1948.
He was a veteran of the United States Army, serving with the military police at White Sands, New Mexico.
Mr. Letcher had been employed in the auto service business his whole life, operating Golden Bear Starters, Carrollton, NY for over 15 years and had operated other garages in Buffalo, NY as well as operating one of the largest Triple A Towing services in Buffalo, NY.
He enjoyed spending time with his family, the outdoors, and was a very avid hunter and fisherman. At one time he owned and trained harness racehorses. He was a sports enthusiast and an avid Buffalo Bills fan. He enjoyed traveling with his late wife, Mary.
Surviving are: three daughters, Betsy (Fred) Reffner, Jackman, ME, Alice (Graylan) Pusser, Adamsville, TN, Amy (Robert) Reed, Little Valley, NY; two sons, Samuel (Dee) Letcher, FL, Harry Letcher, Great Valley, NY; eleven grandchildren; seventeen great-grandchildren; two great-great-grandchildren; several nieces and nephews.
There will be no visitation.
Funeral arrangements are under the direction of the O'Rourke & O'Rourke Inc Funeral Home, 25 River Street, Salamanca, NY.
E-condolences can be sent to orourke.orourkefh@gmail.com or posted to facebook.com/onofh.