Sandra L. Carbone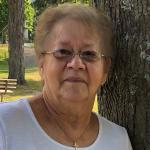 Sandra L. Carbone, 71, of Hammondsport, NY, formerly of Salamanca, NY, died Tuesday morning, December 29, 2020 at Bampa's House Corning Comfort Care, Corning, NY following a short illness.
Born March 11, 1949 in Salamanca, NY, she was the daughter of the late Edward Somborski and Helen Jackson.
She was an enrolled member of the Seneca Nation of Indians and the Bear Clan.
Sandra attended Salamanca High School.
She had been employed as an advocate for domestic violence and sexual assault in Steuben County, and had previously been employed with the HAVEN of Tioga County Domestic Violence Services in Mansfield, PA.
She was a member of Our Lady of Peace Parish, the Altar and Rosary Society, and was an Eucharistic Minister.
Sandra enjoyed crafts, including making all occasion cards. She had started a greeting card class from Stampin Up and has been in business for six years. She also enjoyed spending time with her family, especially her grand- and great-grandchildren, quilting, sewing, and taking care of her flower beds.
Surviving are: three daughters, Lisa (Kevin) Bailey, Hammondsport, NY, Tari Squires, Salamanca, NY, Angela (Daniel Lee) Fernandez, Salamanca, NY; a sister, Veronica (Mike) Kobinski, Napoli, NY; a brother, Rick (Brenda) Gossett, Bensonville, IL; five grandchildren; three great-grandchildren; several nieces and nephews.
She was predeceased by a brother, Marshall Somborski.
Memorial visitation at Our Lady of Peace Parish, 274 Broad Street, Salamanca, NY on Saturday, January 9, 2021 from 10 – 11am, at which time a memorial mass will be held with Rev. Mariusz Sierhart, pastor, as celebrant.
Burial will be in Calvary Cemetery.
In lieu of flowers, the family suggests memorials be sent to Our Lady of Peace Parish or Bampa's House, P.O. Box 965, Corning, NY.
E-condolences can be sent to orourke.orourkefh@gmail.com or posted to facebook.com/onofh.