Sara M. Kyler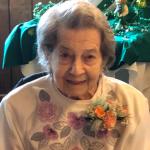 Mrs. Sara M. Kyler, 98, of Salamanca, NY died Monday evening, January 13, 2020 at Olean General Hospital surrounded by her loving family, following a short illness.
Born April 10, 1921 in Vandalia, NY, she was the daughter of the late Frank and Mary Fallanca Quattrone. She was married October 18, 1947 to Mr. John Kyler, who predeceased her on May 4, 2004.
Mrs. Kyler was a member of Our Lady of Peace Parish and the former St. Patrick's Church, and the Altar & Rosary Society. She enjoyed luncheons and outings with her special friends, quilting, and reading, especially doing word searches. She also loved watching her grandchildren play sports. The trip of her lifetime at age 85 was retracing her husband's military route from the crash site where he was captured as a POW to Belgium, Germany, and Poland.
Surviving are: four daughters, Sandra (Glenn Roberts) Hanson, Ashland, MA, Candy (Brad) Brown, Kill Buck, NY, Dawn (Bob Koniak) Wojtowicz, Salamanca, NY, Mary Grace "Angel" Wilson, NC; a son, Clair "Buzz" (Julie) Kyler, Great Valley, NY; 16 grandchildren; 26 great-grandchildren; 14 great-great-grandchildren; several nieces and nephews; her special caregiver Robbin who took such good care of her.
She was predeceased by three sisters, Nancy Rettig, Antoinette Clark, Margaret Von Rhode, and three brothers, Peter Quattrone, Anthony Quattrone, Bruno Quattrone, and a grandson, Corey O'Neil.
There will be no visitation.
A Mass of Christian Burial will be held at Our Lady of Peace Parish, 274 Broad Street, Salamanca, NY, Saturday, April 10, 2021 at 10 am with Rev. Mariusz Sierhart officiating.
Burial will be in Calvary Cemetery.
Funeral Arrangements are under the direction of the O'Rourke & O'Rourke Inc. Funeral Home, 25 River Street, Salamanca, NY.
E-condolences can be sent to orourke.orourkefh@gmail.com or posted to facebook.com/onofh.