Sharon L. Padlo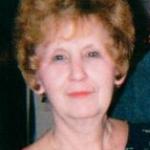 Sharon Lee Bierfeldt Padlo, 78, of Olean, NY died Tuesday, October 11, 2022.
Born May 12, 1944 in Jamestown, NY, she was the daughter of the late Marian Bierfeldt Peters and her stepfather, George Peters.
She was an enrolled member of the Seneca Nation of Indians and of the Snipe Clan.
Sharon was a 1963 graduate of Salamanca High School and a licensed beautician.
She worked at the Pines Nursing Home in Olean, NY for 25 years.
She enjoyed shopping, fine dining, fairs, and craft shows.
Surviving are: a daughter, Karen M. Padlo, Salamanca, NY; a son, Gregory Padlo, Olean, NY; five grandchildren, Braelyn Bridges, Koran Bridges, both of Rochester, NY, Gerald Padlo, Gregory "GW" Padlo, Roxanne Padlo, all of Olean, NY; a sister, Janice (Robert) Coble, Belfast, NY; two brothers, Jeffery (Paula) Peters, Jon Peters, both of Rochester, NY; several nieces, nephews, and cousins.
She was predeceased by her parents, grandparents, Frank and Frances Bierfeldt, and loving boyfriend, Gerald Winslow.
There will be no visitation.
At the convenience of the family, burial will be in Wildwood Cemetery, with her loving grandparents.
Funeral arrangements are under the direction of the O'Rourke & O'Rourke Inc. Funeral Home, 25 River Street, Salamanca, NY.
In lieu of flowers, the family suggests memorials to the American Cancer Society.
E-condolences can be sent to orourke.orourkefh@gmail.com or posted to facebook.com/onofh.