Susan L. Hilliman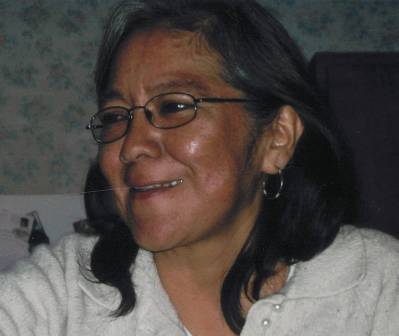 Mrs. Susan L. "Tootie" Hilliman, age 50, of Route 242 Little Valley, New York, died unexpectedly Saturday afternoon, May 11, 2013 at Olean General Hospital, Olean, New York.
Born January 19, 1963, in Salamanca, New York, she was the daughter of the late Allison and Mary Pierce George. She was married January 27, 2006 in Peacemaker's Court, Jimersontown, to Adelbert Hilliman, who survives.
Mrs. Hilliman was an enrolled member of the Seneca Nation of Indians and the Hawk Clan.
She had been employed with Seneca Gaming and Entertainment in the Bingo Hall for over five years and had previously worked with the SNI Education Department.
She enjoyed spending time with her family and the outdoors, especially camping and boating on the Kinzua Reservoir.
Surviving besides her husband are: 2 daughters, Natasha (Gonio Miller) George, Salamanca, New York, Jennifer (Brad Childs) Ullman, Olean, New York; 1 son, Ryan George, Jamestown, New York; 3 granddaughters; 2 grandsons; 3 step-children; Delbert Hilliman, Patty Booth, and Charlotte Hilliman, all of Napoli, New York; 10 step-grandchildren; 4 sisters, Darlene Miller, Jimersontown, New York, Althea "Edgie" Pierce, Salamanca, New York, Ellen "Twisted" Kettle, Jimersontown, New York, Merle "Lovely" Dressel, Akron, Ohio; 4 brothers; Robert "Chub" Pierce, Salamanca, New York, Al George, Hinsdale, New York, Gerald "Gido" George, Salamanca, New York, Greg Miller, Salamanca, New York; several great-grandchildren, nieces, and nephews.
She was predeceased by one sister, Brenda "Beeber" George Bova and one brother Ramon George.
Friends may call at the family home of Darlene Miller, 3709 Center Road, Jimersontown, New York on Monday after 3:00 p.m. and all day Tuesday.
Funeral service will be held at the family home Wednesday at 10:00 a.m. with Winfield Bowen of the Red House Chapel officiating.
Funeral arrangements are under the direction of the O'Rourke & O'Rourke Inc. Funeral Home, 25 River Street, Salamanca, New York 14779.
E-condolences can be sent to john@orourke-orourke.com or posted to facebook.com/onofh.