Teresa Farnham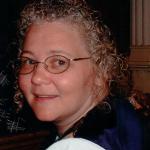 Teresa Farnham, 62, of Forestville, NY, formerly of Salamanca, NY died early Monday morning, April 4, 2022 at Sisters Hospital, Buffalo, NY following a long illness.
Born July 4, 1959 in Gowanda, NY, she was the daughter of the late Clarence and Georgeann Dawson Farnham.
She had been employed with American Locker in Ellicottville for over 25 years, retiring in 2004.
Teresa enjoyed spending time with her family and was a devoted grandmother. She enjoyed the outdoors, camping, music, dancing and singing, and especially listening to her brother Peter's vocals.
Surviving are: three daughters, Teresa Weaver, MS, Misty (Brad) Windnagle, Sinclairville, NY, Nina (Todd) Madigan, PA; nine granddaughters, Destiny Bellaus, Buffalo, NY, Rebekka Lawton, Silver Creek, NY, Haley McCluney, Jamestown, NY, Courtney Prince, Dunkirk, NY, Helena Skalski, Eden, NY, Hannah Edwards, AL, Hope Windnagle, Sinclairville, NY, Kairi Madigan, PA, Eden Madigan, TX; three grandsons, Scotty Bellaus, MS, Quentin Lawton, Silver Creek, NY, Bradley Windnagle, Sinclairville, NY; eleven great-grandchildren, Meliah, Elliana, Aria, Quinn, Liam, Olivia, Melody, Adrian, QJ, Logan, Isaac; three sisters, Gerianne Bynum, Stockton, NY, Tammie Brown, Little Valley, NY, Danielle (Dave) Fallin, AL; two brothers, Peter (Blanche) Farnham, Salamanca, NY, Christopher (Penny) Farnham, Fredericksburg, VA; several nieces and nephews.
She was predeceased by a brother, Richard Farnham Sr., and a great-grandson, Sebastian Szynski.
Friends may call at the O'Rourke & O'Rourke Inc Funeral Home, 25 River Street, Salamanca, NY on Saturday April 9, 2022 from 10pm – 1pm, at which time reflections and stories will be encouraged with her brother Peter Farnham officiating.
A Celebration of Life will be held at the convenience of the family and will be announced.
In lieu of flowers, the family suggests memorials be sent to St. Jude Children's Research Hospital, P.O. Box 50, Memphis, TN 38101.
E-condolences can be sent to orourke.orourkefh@gmail.com.