Thelma M. Meyers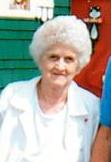 Mrs. Thelma M. Meyers, 96, of Killbuck, New York died peacefully at her home Saturday morning, March 26, 2016.
Born November 8, 1919 in Salamanca, New York, she was the daughter of the late Victor and Lila Millholen Harrison. She was married on December 21, 1945 in Salamanca, New York to Mr. Robert J. Meyers, who predeceased her on February 18, 2005.
She was a veteran of the United States Navy, serving with the Chief of Naval Operations in Washington, DC during WWII.
Mrs. Meyers was a homemaker and she volunteered for several years for the Cattaraugus County Bible Club Movement. She was a member of the Alliance Community Church in Killbuck, New York.
Surviving are: two sons, Richard (Cheryl) Meyers, Allegany, NY, Thomas (Connie) Meyers, Newtown, PA; six grandchildren; three great-grandchildren; a sister, Betty Terry, Winston-Salem, NC; a sister-in-law, Cheryl Harrison-Lapey, Salamanca, NY; several nieces and nephews.
She was predeceased by a son, James Meyers, a granddaughter, Katrinia, four brothers, Victor Harrison, Charles Harrison, Guy Harrison, Robert Harrison, and a sister, Dorothy Jacoby.
Friends may call at the O'Rourke & O'Rourke Inc. Funeral Home, 25 River Street, Salamanca, New York on Wednesday, March 30, 2016 from 6 – 7 p.m., at which time funeral services will be held with Pastor Terry Davis, of the Alliance Community Church, officiating.
Burial will be in Wildwood Cemetery, Salamanca, New York.
In lieu of flowers, the family suggests memorials to the donor's choice.
E-condolences can be sent to john@orourke-orourke.com or posted to facebook.com/onofh.