Theresa D. Printup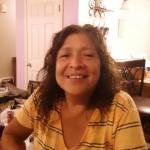 Theresa (Halftown) Printup, 57, of Salamanca, NY, died Friday morning, September 22, 2023 at home following a long illness.
Born September 6, 1966 in Irving, NY, she was the daughter of Joyce (Martin Crouse) Huff, Jimersontown, NY and the late Gilbert Halftown.
She was an enrolled member of the Seneca Nation of Indians and of the Wolf Clan.
Theresa attended Salamanca Central School.
She was very sociable and loved people. She loved gardening, decorating and holidays.
Surviving besides her mother are: her fiancé, Ray Lyons; thirteen siblings, Veronica Halftown, Victoria (David) Mercado, Juanita Williams, Michelle Mitchell, Renda Huff, William (Tami) Canella, Gilbetine Halftown, Kristin Chaparro, Bethany Johnson, Martin Crouse Jr., Jacquelyn Crouse, William Crouse, Brandon Crouse; special friends, Rachel Crouse, Tish Halftown, Leona Martin, Gwenn Jimerson, Brenda Halftown, Delphine Shenandoah, and Pam Bowen.
She was predeceased by her son, Ezra Redeye, six siblings, Crystal Mitchell, Barry Halftown, Sharon Tallchief, Natalie Halftown, Marilyn Maglott, and Vanessa R. Halftown.
Friends may call at the family home, 3753 Center Road, Jimersontown, NY 14779 beginning Saturday afternoon, September 23, 2023 and continuing all day Sunday.
Funeral services will be held at the family home on Monday at 10am with members of the Coldspring Longhouse officiating.
Burial will be in Memorial Heights Cemetery, Jimersontown, NY.
E-condolences can be sent to orourke.orourkefh@gmail.com or posted to facebook.com/onofh.