Thomas Guy Slocum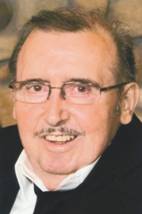 Loving husband, father and grandfather
Mr. Thomas Guy Slocum, age 69, of Wildwood Avenue, Salamanca, New York went to be with his Lord Friday, July 1, 2011 at his home surrounded by his family.
Born on September 21, 1941 in Ellicottville, New York he was the son of the late Neal and Alice Chamberlain Slocum. He was married on May 27, 1961 to the former Bernice Whitcomb who survives.
He was a veteran of the U.S. Navy.
Mr. Slocum was employed in construction with Laborer's Local #621 in Olean, New York.
He was a member of the Red House Memorial Chapel. He was a proud Grandpa. He enjoyed cooking, woodworking, gardening, drawing, and was a huge sports fan of the New York Yankees, the Buffalo Bills, and the Buffalo Sabres. He was an avid reader, enjoyed Harley motorcycles, and he had a great sense of humor.
Surviving besides his wife of over 50 years are: three daughters, Renee (Bruce) Abrams, Paula (Darryl) Slocum-Hammer, Alicia Slocum; six grandchildren, Caleb , Reesa, Nathan, Nick, Brandon, Justin; a sister, Annie Krause, all of Salamanca New York; a brother, Paul Slocum; a sister-in-law Judy Rhodes; a brother-in-law Mike Whitcomb, all of Killbuck, New York; and several nieces and nephews.
He was predeceased by a sister, Peggy Hurlbert; and two brothers-in-law, Paul Whitcomb and Douglas Krause.
There will be no visitation.
A memorial service will be held in the O'Rourke & O'Rourke Inc. Funeral Home, 25 River Street, Salamanca, New York on Sunday, July 10, 2011 at 2 p.m., with Winfield Bowen, pastor of the Red House Memorial Chapel, officiating.
E-condolences can be sent to john@orourke-orourke.com or posted to facebook.com/onofh.
The family suggests memorials to Home Care & Hospice, 1225 West State Street, Olean, New York 14760.