Toni L. Biscup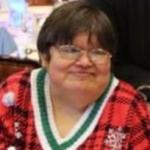 Toni L. "Ubee" Biscup, 64, of Salamanca, NY died Tuesday, March 29, 2022 at Olean General Hospital, Olean, NY following a short illness and as a result of long haul COVID-19.
Born October 2, 1957 in Salamanca, NY she was the daughter of the late Douglas and Ramona Abrams Biscup.
She was a member of the Seneca Nation of Indians and of the Turtle Clan. She was also a member of the Coldspring Longhouse.
She was a graduate of Salamanca High School and BOCES, Class of 1977.
Toni had been employed with SubCon Industries and Intandem, Olean, NY for almost 45 years and had been honored in 2018 for 40 years of service.
Toni will be remembered for her sense of humor and spunky personality. She was proud of her Seneca heritage and enjoyed spending time with her family, going to Powwow, doing crafts, painting, traveling, and going out to restaurants. She also enjoyed the outdoors, fishing, attending movies, watching sporting events, and was an avid Buffalo Bills, Green Bay Packer, and New England Patriots fan who had a crush on Tom Brady. Toni participated in the Special Olympics in bowling, softball, and basketball. She had also participated in the Gus Macker Tournament.
Surviving are: two brothers, Randy (Janice) Biscup, Randolph, NY, Marc Biscup, Salamanca, NY; several nieces, nephews, aunts, uncles, and cousins.
She was predeceased by a brother, Rodney "Russi" Biscup in 2002.
Friends may call at the family home, 8151 Jimerson Road, Salamanca, NY 14779 beginning Thursday afternoon March 31, 2022 and continuing all day Friday.
Funeral services will be held in the family home on Saturday at 10am with members of the Coldspring Longhouse officiating.
Burial will be in Hillside Haven Cemetery, Steamburg, NY.
In lieu of flowers, the family suggests memorials be sent to the Special Olympics Foundation, 1133 19th Street, NW Washington DC 20036.
Funeral arrangements are under the direction of the O'Rourke & O'Rourke Inc. Funeral Home, 25 River Street, Salamanca, NY.
E-condolences can be sent to orourke.orourkefh@gmail.com.