Trudy L. Oldshield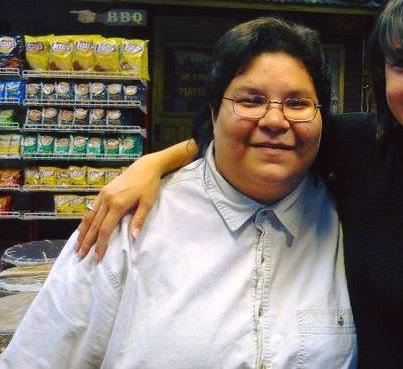 Trudy L. Oldshield, 40, of Route 353, Salamanca, NY, died early Saturday morning May 21st, 2016 at her home.
Born September 6th, 1975 in Olean, New York. Trudy was raised and cared for by her parents, Ronald W. Schubert and the late Marjorie "Midge" Schubert.
Trudy was a proud member of the Seneca Nation of Indians, and the Turtle Clan. Graduating from Salamanca Central High School in 1996 and a graduate of BOCES in Photography. Trudy was employed by The Seneca Nation of Indians as security at the Allegany Community Center. Trudy also worked at the Seneca Allegany Casino, Seneca Gaming and Entertainment and the Salamanca Central School.
Surviving besides her father are 7 sisters: Jodi L. (Robert) Schubert Scanlan, Nadine Jimerson, and Laura Cooper Gerhart all of Salamanca, NY, Rachel (Kalla) Mukai Stark, of South Africa, Tracy Crowe and Jackie Crowe, both of Olean, NY and Dawn Kindt Story of North Carolina; 11 brothers, Randy (Maureen Cox) Schubert, Olean, NY, Bruce (Stephanie) Schubert, Fort Wayne, Indiana, Jamie Jimerson, Gavin Cooper, and Shawnee Oldshield, all of Salamanca, NY, Marvin (Laura) Cooper of Steamburg, NY, Kirby Ferguson of Olean, NY, Lenual Mukai , New Mexico, Roger Mukai, Washington, Pamanet Sackatook and Frank Sackatook of Wisconsin. Her adoptive mother Katheryn Oldshield, Hurst, Texas and several nieces and nephews.
She was predeceased by her adoptive father Gordon Oldshield along with two sisters: Zenna Oldshield and Carlen Cooper Pierce.
Friends may call at the United Congregational Methodist Church on Saturday from 10 a.m. to 12 p.m. (noon) , at which a service will be held with Pastor Michael Trenchard officiating. A celebration of Life Luncheon will immediately follow.
Burial will be in Crawford Cemetery, Salamanca, NY.
E-condolences can be sent to john@orourke-orourke.com or posted to facebook.com/onofh.