Vincent R. Worster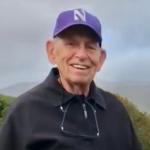 Vincent R. Worster, 86, of Great Valley NY died Saturday June 4, 2022, at Olean General Hospital, with his loving wife of 64 years by his side, after a battle with Cancer. Born April 16, 1936 in Ripley NY, he was the son of the late David and Margaret Worster.
Vincent was a graduate of North East PA High School and earned his bachelor's degree in Business Administration from Northwestern University. At the age of eight, he declared he was going to marry Sandra Jean Felton. They were married on September 20, 1958.
Vincent is survived by his wife and children: Dana R. (Katie DiDonato Worster) Ellicottville NY, Sabrina R. (John Giordano), Mountain Lakes NJ, and Andrea R. Worster, Ellicottville NY. He was a beloved grandfather to six grandchildren: Phillip Worster, Maverick Worster, Kelly Worster, Tommy Giordano, Matt DiDonato, and Nick DiDonato. He was predeceased by an infant son, Von Brenton Worster.
Vincent acquired and began his career at McKay and McCloud, and eventually owned and operated Worster Motor Lines in North East PA. An entrepreneur at heart, he ran and operated the Buoy Restaurant, Erie Marina, and Worster Warehousing. He retired from Luahar Carriage Inc. as President. In retirement he shared his experience and knowledge with other businesses as a consultant. Vince fell in love with Ellicottville and lived in the area off and on for over 50 years. He always gave back to his community including working at Holiday Valley as a Shuttle Bus Driver in his retirement. Vince always had a twinkle in his eye and a big smile that would light up any room.
A Celebration of Life will be held at Villaggio on Saturday June 11, 2022, 11am – 2pm.
In lieu of flowers contributions in Vincent's Memory can be made to the Ellicottville/Great Valley Ambulance or Ellicottville Fire Department at PO Box 397 Ellicottville NY 14731
Funeral Arrangements are under the direction of the O'Rourke & O'Rourke Inc. Funeral home, 25 River Street, Salamanca NY
E-Condolences can be sent to orourke.orourkefh@gmail.com.