Virginia "Ginny" Strasser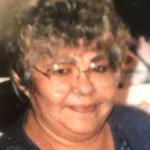 Virginia "Ginny" Marie Strasser passed away peacefully in her home November 4, 2021 at the age of 81.
Born April 11, 1940 in Salamanca, she was the first born of the late Bernard John and Ramola Johnson. She was an enrolled member of the Seneca Nation of Indians, the Hawk Clan, and the Coldspring Longhouse. Virginia grew up along the Allegany River in Quaker Bridge with her cousins Russ (Rutherford) Rodgers and Ron (Verona) Johnson. At a young age she was helpful with family work, as they lived off the land; she would help with selling bait and tending to the garden.
Through her younger years, she raised two children, Denise and Dennis John. She supported her family by beginning her own cosmetology business in Coldspring. Her successes include earning a cosmetology degree and many business certificates. She also had a license to sell her beadwork through the Seneca Nation.
Throughout her life, she held several different positions within the Seneca Nation, including Activities Director at the Area Office for the Aging, Receptionist at the Health Department, and Family Support role at Child & Family Services.
Virginia began Old Town Campground with her family and enjoyed camping for years. She enjoyed doing crafts and offering her beadwork to the community. She has shared her passion for beading and crafts with her grandchildren and great-grandchildren, passing on the tradition. Virginia spent a lot of time feeding and watching the various bird species, which she could identify by sound. Her family brought much joy to her life. She was active and independent until the end, as she wanted it. Her last few favorite memories were this recent 4th of July camping for 3 days with her grandson, roasting corn outside with her daughter this fall, and playing bingo on occasional Fridays with her granddaughter. She enjoyed looking over the river and taking in the beauty of nature.
Surviving are her daughter, Denise John, and her two children Dawn Colburn and Justin Colburn; her son, Dennis's three children, Jessica Winder, Stacie John-Hebner, and Denny John; 18 great-grandchildren and 3 great-great-grandchildren.
Virginia was predeceased by her younger brother, Bruce John who passed at the age of 3, her son Sheriff Dennis John, her aunt Myra Rodgers, and her cousins Russ (Rutherford) Rodgers and Ron (Verona) Johnson.
There will not be visitation. The family will receive her ashes on November 15, 2021 at 10:00 am and will have a funeral procession with the Sheriff's Office and Seneca Nation Marshals from the O'Rourke & O'Rourke Inc Funeral Home in Salamanca to the family estate in Onoville, where her ashes will be spread on top of the hill. Family and friends are invited to a Celebration of Life luncheon at the Steamburg Community Building at 2:00 on November 15.
Funeral arrangements are under the direction of the O'Rourke & O'Rourke Inc Funeral Home, 25 River Street, Salamanca, NY.
E-condolences can be sent to orourke.orourkefh@gmail.com.