Virginia D. Coustenis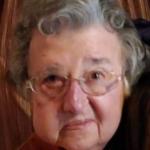 Virginia D. Coustenis, 93, of Salamanca, NY died Friday, September 8, 2023 at Elderwood at Lancaster, NY following a short illness.
Born March 17, 1930 in Buffalo, NY, she was the daughter of the late Constantine and Chrisanthy Frango Dumas. She was married August 2, 1953 in the Greek Orthodox Annunciation Church in Buffalo, NY to Theodore "Ted" Coustenis, who predeceased her on July 19, 2011.
She was a graduate of Grover Cleveland High School Class of 1947 and was awarded Jesse Ketchum Award in 7th and 8th grade at Public School #77.
Mrs. Coustenis was a civilian volunteer for the U.S. Air Force working at the Command Center during the Korean War.
She was employed in customer service at the Shirley Weast Real Estate Company and Shirley Weast Insurance Company from 1987 until 2004. Previously, she had been employed by General Accident Insurance Company and H.R. Defler Corporation, both of Buffalo, NY.
Mrs. Coustenis was a member of St. Nicholas Greek Orthodox Church in Jamestown, NY, a 50-year member of Beta Sigma Phi Sorority, Order of Eastern Star Mizpah Chapter #162, the former Salamanca District Hospital Auxiliary, and was a charter member of ECHO, where she served as a volunteer. She was a member of AARP and the Salamanca Senior Center.
She enjoyed spending time with her family and was a proud grandmother and great-grandmother. She loved bowling, flower gardening, collecting antiques, especially elephant figurines, playing cards and slot machines.
Surviving are: two sons, Stephen (Joanne) Coustenis, Hinsdale, NY, Ted Coustenis, Salamanca, NY; a daughter, Chrisann (David) Baloga, Riverside, CA; two grandchildren, Alexander (Kelly) Coustenis, Salamanca, NY, Nicole Suave, Harrisburg, NC; a step-grandson, Kempton Little; a step-granddaughter, Brittany (Willem) DeRidder, La Messa, CA; three great-grandchildren, Alyssa Coustenis, Kruz Coustenis, both of Salamanca, NY, Logan Suave, Harrisburg, NC.
Per her request, there will be no visitation.
Funeral services will be held at the St. Nicolas Greek Orthodox Church, Mt Vernon Pl, Jamestown, NY on Friday, September 15, 2023 at 11 a.m. with Father Soterios Rousakis officiating.
Burial will be in Wildwood Cemetery, Salamanca, NY.
Funeral arrangements are under the direction of the O'Rourke & O'Rourke Inc. Funeral Home, 25 River Street, Salamanca, NY.
In lieu of flowers, the family suggests memorials to the St. Nicholas Greek Orthodox Church at saintnicholasny.square.site E-condolences can be sent to orourke.orourkefh@gmail.com or posted to facebook.com/onofh.