Willard H. Opferbeck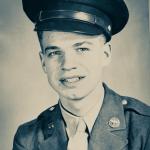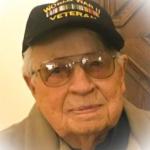 Willard "Bill" H. Opferbeck, 99, of Salamanca, NY passed away Friday morning, April 21, 2023 at home surrounded by his loving wife and family, following a brief illness.
Born February 4, 1924 in the Town of Mansfield, NY, he was the son of the late Fritz and Mildred Rice Opferbeck. He started school in a one room schoolhouse in Otto before attending schools in Cattaraugus and Little Valley.
Bill was drafted into the Army Air Corps on his 19th birthday. He served proudly as a Corporal in Normandy, Northern France, Ardennes, and Rhineland during World War II. He received many medals for his service: European-African Middle Eastern Service Medal with 5 Bronze Stars, Good Conduct Medal, Distinguished Unit Badge, Overseas Service Bar, and the WWII Victory Medal. He was in Paris, France on VE Day. He was honorably discharged in October 1945.
On April 14, 1946, Bill married the love of his life, Doris Franze in the Little Valley Congregational Church. They just celebrated 77 years of marriage.
Bill worked for Luminite in Salamanca. He then went to work for the NYS DOT as a supervisor, retiring in May 1983.
He was a member of the Riverside Chapel, American Legion Hughes-Skiba Post 535, Salamanca Area Historical Society, and the Salamanca Area Senior Citizens. He was a former member of Elkdale Country Club, Friday AM Mixed Bowling League, and other leagues. He was an avid hunter, fisherman, bowler, and golfer. Bill enjoyed watching NASCAR and the Buffalo Bills games.
Bill was well-respected by his family and within the community. He was a loving, caring, kind, and compassionate man that loved his family. He thoroughly enjoyed his time with his wife, sons, grandsons, and great-grandsons. The family was his life, they loved him dearly and honored him for the hero and tremendously gentle man he was. Bill exhibited true love and just wanted everything and everyone to be good.
Surviving besides his wife are: their two sons, Randy (Debbie) Opferbeck, Allegany, NY and Kevin (Cindy) Opferbeck, Ashville, NY; four grandchildren, Derek Opferbeck, Chris (Kristi) Ryberg, Nathan (Sally) Opferbeck, Josh (Rebecca) Opferbeck; three stepgrandchildren, Jonna Briggs, David (Kimberly) Briggs, Jared (Kristi) Briggs; six great-grandchildren, Makennah Ryberg, Malani Ryberg, Maxwell Opferfeck, Liam Rankin Jr., Blake Opferbeck, and soon to be AvaLynn Opferbeck; twelve step-great-grandchildren, Ryan (Shelly) Michael, Courtney (Casey) James, EmmaLea Michael, Rilyn Briggs, Henry Briggs, Lillian Briggs, Kelan Haynes, Ryland Haynes, Brodan Briggs, Nytan Briggs, Jastyn Briggs, Thieryn Briggs; four step-great-great-grandchildren, Flynn Michael, Hendrix Michael, Olivia James, and Calliope Michael; a brother Richard (Kate) Opferbeck, Salamanca, NY; several nieces and nephews.
He was predeceased by his son, Steven Lee Opferbeck, two brothers, Daniel (the late Donna) Opferbeck, and Gerald (the late Barbara) Opferbeck, a sister, Edna (the late Jerry) Edmonds, and a step-grandson, Todd Briggs.
Memorial visitation will be held at the Riverside Chapel, 134 Broad Street, Salamanca, NY, on Saturday, April 29, 2023 from 11a.m. – 12:30p.m., at which time a Celebration of Life will be held with Rev. Ben Good, pastor, officiating.
Full military honors will be conducted by members of the American Legion Hughes-Skiba Post 535 and the Veterans of Foreign Wars John F. Ahrens Post 5296.
Funeral arrangements are under the direction of the O'Rourke & O'Rourke Inc Funeral Home, 25 River Street, Salamanca, NY.
Burial will be in Crawford Cemetery, Salamanca, NY.
The family wishes to thank Visiting Nurse Hiliary McElwain for her assistance, the family could not have gone through this time without her help. Also thank you to the friends and family that helped during Bill's last weeks.
In lieu of flowers, the family suggests donations may be made to the Riverside Chapel, 134 Broad Street, Salamanca or an organization of the donor's choice.
E-condolences can be sent to orourke.orourkefh@gmail.com or posted to facebook.com/onofh.