William E. Goodman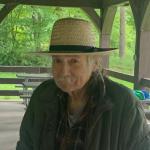 Mr. William E. Goodman, 78, of Salamanca, NY went to be with his Lord and Savior, Jesus Christ, Thursday evening, October 13, 2022 at home.
Born June 30, 1944 in Salamanca, NY, he was the son of the late William A. Goodman and Eileen Whalen Goodman Goodrich. He was married on November 20, 1972 in Salamanca, NY to the former Jo Anne Trisczyla, who predeceased him in 1997.
He attended Bucktooth Run Rural School, St. Patrick's School, graduated Salamanca High School, Class of 1964 and the United States Air Force weapons School.
Bill joined the United States Air Force in 1965 and was sent to Thailand, serving with the 8th Tactical Fighter Wing under command of two-time WWII ACE Colonel Robin Olds. One of the many planes he serviced was flown by Colonel Olds and is now located at the USAF Museum in Dayton, OH. Bill's crew participated in Operation BOLO in which Colonel Olds shot down two migs. Bill volunteered to go Vietnam and arrived at Da Nang just in time for the TET Offensive and met Lance Sijan, who was awarded a Medal of Honor posthumously.
After his honorable discharge from the USAF, he finished his apprenticeship in the Operating Engineers Local 17, Buffalo, NY. There, he worked in a heavy industry with highways and bridges in WNY and New Jersey. He had also attended BOCES classes and electrical code classes. He had been employed as the Highway Superintendent for the Town of Salamanca.
He was member of the American Legion Hughes-Skiba Post 535, Disabled American Veteran Association, Vietnam Veterans of America, and the Veterans of Foreign Wars John F. Ahrens Post 5296, where he held the position of the fist Vietnam Era Commander. He was the Historian for the Town of Salamanca, Allegany State Park, and the Saskatchewan River Historical Society for Native American Studies. He was a former member of the Holy Cross Athletic Club, Salamanca Elks Club, Salamanca Moose Club, and the Salamanca Volunteer Fire Department.
Bill was proud to have built his own home on the family homestead on Bucktooth Run. This he did mostly by himself, doing masonry, carpentry, electrical, and plumbing. He had a great love and admiration for Native Americans and attended many Powwows. Bill had many Native American and Amish friends. His greatest love, however, were his grandchildren. He enjoyed their visits to his home tremendously and the time they spent together.
Surviving are: five sons, Michael (Kim) Goodman, Amherst, NY, Cody (Amanda) Goodman, North East PA, Joseph (Joan) Goodman, Painted Post, NY, Christopher (Amanda) Goodman, Allegan, MI, John (Dale) Goodman, Bucktooth Run, Little Valley, NY; 13 grandchildren, Colten, Ridge, Natalya, Myra, Evan, Melissa, Michael, Matthew, Michelle, Alex, Benjamin, Shawn, Harmony; a brother, Richard Goodrich, Douglasville, GA; a cousin, Jeremy (DeAnna) Pitts, Runa, ID; several nieces and nephews.
He was predeceased by two brothers, Thomas Goodman, Daniel Goodman, a sister, Susan Goodman Neubauer, and his stepfather Richard Goodrich. He is a direct descendant of Jefferson Goodman from the 154th New York Infantry, who died in the Andersonville Confederate Prison.
Friends may call at the O'Rourke & O'Rourke Inc. Funeral Home, 25 River Street, Salamanca, NY on Wednesday, October 19, 2022 from 4 – 7pm.
A Mass of Christian burial will be held at Our Lady of Peace Parish, 274 Broad Street, Salamanca on Thursday at 10:30am with Rev. Moses Ikuelogbon, pastor, as celebrant.
Full military honors will be conducted by members of the American Legion Hughes-Skiba Post 535 and the Veterans of Foreign Wars John F. Ahrens Post 5296.
Burial will be in Crawford Cemetery, Salamanca, NY.
In lieu of flowers, the family suggests memorials be sent to the St. Joseph Indian School, Chamberlain, SD, or the Holy Family Catholic Church, 5 Walker Avenue, Bradford, PA 16701.
E-condolences can be sent to orourke.orourkefh@gmail.com or posted to facebook.com/onofh.