William H. Bridges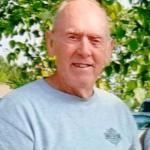 Mr. William Bridges, 83, of Sawmill Run, Little Valley died Saturday evening, January 30, 2021 at Olean General Hospital following a short illness.
Born July 25, 1937 in Gowanda, NY, he was the son of the late Harold and Wilma Easton Bridges. He was married on October 21, 1961 to the former Judith Langworthy, who survives.
He was a graduate of Salamanca High School, Class of 1954.
Mr. Bridges was a veteran of the United States Air Force, serving in Japan. He later re-enlisted in the United States Army Reserve.
He had been employed with the Cattaraugus County Department of Public Works form over 15 years, retiring in 2000. He had also co-owned with his father, Bridges Electric for over 10 years.
He enjoyed the outdoors, hunting, fishing, and taking long trips on his motorcycle, where he and his wife had traveled throughout the United States. He enjoyed woodworking, metal working, and doing mill work. He was a member of the American Legion Hughes-Skiba Post 535, the Veterans of Foreign Wars John F. Ahrens Post 5296, and a former member of the Salamanca Moose Club. He was also a member of the H.O.G. Motorcycle Club, Jamestown, NY.
Surviving besides his wife are: a daughter, Terri (Randy) Foster, Salamanca, NY; three sons, Randy Bridges, Kill Buck, NY, Jeffery Bridges, Salamanca, NY, Timothy (Kelly) Bridges, Randleman, NC; five grandchildren; six great-grandchildren; several nieces and nephews.
He was predeceased by two brothers, Thomas Bridges and infant Jack Bridges.
There will be no visitation.
A Celebration of Life will be held at the convenience of the family and will be announced.
Funeral arrangements are under the direction of the O'Rourke & O'Rourke Inc Funeral Home, 25 River Street, Salamanca, NY.
E-condolences can be sent to orourke.orourkefh@gmail.com or posted to facebook.com/onofh.